The Provisional Transition Government of Chile (Span: El Gobierno de Transición Provisional de Chile), often referred to as the Provisional Government or the Transition Government as opposed to its full name, was a short-lived governing body of Chile that lasted from February 16, 1989, when the Communist Party collapsed during a nonviolent military coup, to April 10, 1990, when Patricio Aylwin Azocar took the oath of office as President of Chile, becoming the first democratically elected leader of Chile since Salvador Allende's victory in 1964.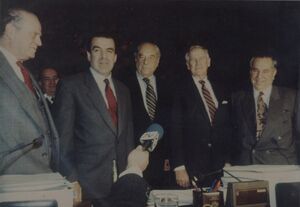 The Provisional Government's focus was mainly on rehabilitating various political actors to Chile, encouraging the return of exiles and creating a "frame" of a Constitution that would enable elections to be held within a year of the government's formation. Numerous Communists served in this eighty-member body, which served simultaneously as a Congress and Cabinet, headed by future President of Chile Arturo Alessandri Besa, who was a former Energy Minister for the Communist government and served in the position of "President of the Provisional Transition Government of Chile."
This body was officially disbanded on April 10, 1990 with the inauguration of Aylwin in Santiago, and thirty-five of its members, including Alessandri, were selected by the new Chilean Congress shortly thereafter to serve on the Committee for the Constitution, which would finalize the document.
The transition government is regarded as the most important actor both politically and socially in the transition to democracy in Chile.
Ad blocker interference detected!
Wikia is a free-to-use site that makes money from advertising. We have a modified experience for viewers using ad blockers

Wikia is not accessible if you've made further modifications. Remove the custom ad blocker rule(s) and the page will load as expected.