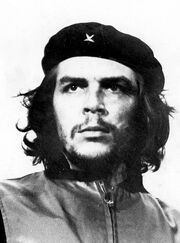 Ernesto "Che" Guevara
, more commonly known as 
El Che
, was a leader of the
1987 Argentinian coup d'etat
, alongside 
Carlos Menem
. Guevara largely stayed out of the public eye, seeking instead to focus on the war. He was killed leading liberation forces during the fall of Santiago, the last stronghold of the old regime, in 1989, and was given a full military funeral. He is largely remembered as a good military tactician and commander, but poor in governing and maintaining public support. He has left behind a complex and controversial legacy over accusations of torturing members of the national army who were captured in action.
Ad blocker interference detected!
Wikia is a free-to-use site that makes money from advertising. We have a modified experience for viewers using ad blockers

Wikia is not accessible if you've made further modifications. Remove the custom ad blocker rule(s) and the page will load as expected.