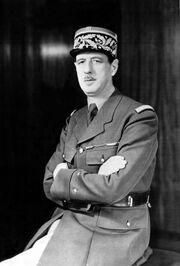 Charles de Gaulle was born on November 22, 1890 in Lille, The French Empire. He came from a rich merchant family and had a good upbringing.
In 1905 he joined the Imperial army as a private and served in North Africa (1905 - 1908). On his return to France in 1908 he was promoted to Sergeant and was posted to the garrison at Metz, where he spent the next six years. In 1911 he was promoted to Sergeant Major and in 1913 he was promoted to Adjutant. When war came in 1914 he was posted to the army of the Rhine served there until 1915. In January 1915 he was promoted to 2nd Lieutenant and two weeks later Lieutenant. He was wounded in March and was posted to Metz to recover. However, following the Prussian breakout Metz was besieged. He served in Metz for the next three months before he and less than 50 others were able to escape back to French lines. For his gallantry he was promoted to Captain and posted to the army of Flanders' staff where he served under Marshal Petain. But it was only a temporary appointment and two months later he was given command of an infantry company on the front line. In February 1917 he was made commander at Fort Rousson and defended its siege during the battle of Laon. He then was posted to Spain to reorganise Jaimist forces, until the collapse of the Army of Granada in November. He was then posted to the Army of Normandy and served as acting battalion commander until he was promoted to Major in January 1918. He led his battalion until the battle of Paris in February 1919.
Immediately following the war he was given command of the French troops around Bordeaux with the rank of acting Lt Colonel. He was a strong supporter of the military government. When in June 1200 communists marched through Bordeaux, he was the one he gave the order to open fire, killing over 700. In 1920 he was promoted to Colonel and was made military governor of Caen. Three years later he was made Military Governor of Normandy then in 1925 he was promoted to Brigadier General and given command of a brigade. In 1928 he was made Aide de camp to Marshal Petain, he served in this capacity for the next six years. In 1934 he was General of Division and was made military Governor of Marseilles. In 1937 he was promoted to General and was made Minister of Agriculture. In 1939 he was made Prime Minister and in 1940 he became Chief of Staff of the army. He served as Prime Minister until Petain's death in 1946. He then became Head of State.
During the war (1939 - 1947) de Gaulle served as Prime Minister and General of Intelligence. De Gaulle's dictatorship was just as autocratic as that of Petain, but was more conservative than Fascistic and had a more human face.
| | |
| --- | --- |
| Rank | Date attained |
| Private | June 12, 1905 |
| Sergeant | September 5, 1908 |
| Sergeant Major | August 8, 1911 |
| Adjudant | March 24, 1913 |
| 2nd Lieutenant | January 17, 1915 |
| Lieutenant | February 4, 1915 |
| Captain | May 8, 1915 |
| Major | January 16, 1918 |
| Lieutenant Colonel | May 10, 1919 |
| Colonel | July 16, 1920 |
| Brigadier General | November 2, 1925 |
| General of Division | June 29, 1934 |
| General | February 30, 1937 |
| Marshal of France | August 19, 1946 |
Ad blocker interference detected!
Wikia is a free-to-use site that makes money from advertising. We have a modified experience for viewers using ad blockers

Wikia is not accessible if you've made further modifications. Remove the custom ad blocker rule(s) and the page will load as expected.