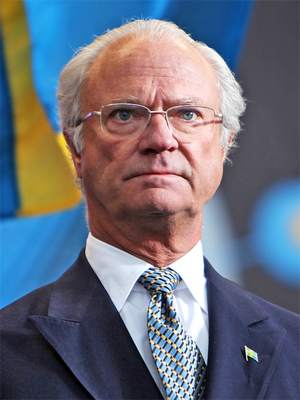 Charles XIII Gustavus (full name: Charles Gustavus Folke Hubertus, Swedish: Carl Gustaf Folke Hubertus, Finnish: Kaarle Kustaa Folke Hubertus, born 30 April 1946 at Haga Castle, Solna, Stockholm County, Sweden) has been King of Sweden since 15 September 1973, succeeding his grandfather King Gustavus VI Adolphus because his father had predeceased him. He is the only son and youngest child of Prince Gustavus Adolphus of Sweden and Princess Sibylla of Saxe-Coburg-Gotha. He is the second monarch of the royal house of Bernadotte, descending from general Jean Bernadotte.
During his reign Sweden has taken a distinctly more conservative turn, and Charles XIII Gustavus has regained a lot of the political power which his grandfather Gustavus VI Adolphus handed over to the house of commoners.
Charles XIII Gustavus is married since 19 June 1976 to Silvia Sommerlath. The couple have three children:
Princess Victoria, Countess Westling
Ad blocker interference detected!
Wikia is a free-to-use site that makes money from advertising. We have a modified experience for viewers using ad blockers

Wikia is not accessible if you've made further modifications. Remove the custom ad blocker rule(s) and the page will load as expected.