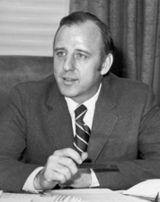 Charles Ellsworth Goodell was President of the United States of America.
He was born on 16 March 1926 in Jamestown, New York, United States. He was elected President (as the Conservative Party's nominee) in the presidential election of 1968, and took office on 20 January 1969, succeeding the Democrat Joseph P. Kennedy, Sr., whom he defeated in the election. Goodell chose not to seek a second term, and during the presidential election of 1972, the Conservative Nelson Rockefeller was elected president, and thus succeeded him on 20 January 1973.
Goodell died on 21 January 1987 in Washington, D.C., United States.
Ad blocker interference detected!
Wikia is a free-to-use site that makes money from advertising. We have a modified experience for viewers using ad blockers

Wikia is not accessible if you've made further modifications. Remove the custom ad blocker rule(s) and the page will load as expected.