Charles Evans Hughes

32nd President of the United States
In office:

January 6, 1919 - March 4, 1921

Preceded by:
Theodore Roosevelt
Succeded by:
James M. Cox
Vice President of the United States
In office:

March 4, 1917 - January 6, 1919

Preceded by:
Hiram Johnson
Succeded by:
Vacant (Next Held by Franklin D. Roosevelt)
Governor of New York
In office:

January 1, 1907 - October 6, 1910

Preceded by:
Unknown
Succeded by:
Unknown
Biography
Born:

April 11, 1862, Glens Falls, New York

Died
August 27, 1948, Osterville, Massachusetts
Nationality:
American
Political party:
Republican
Spouse:

Antoinette Carter

Children:
4
Alma mater:

Madison University

Brown University

Columbia University

Occupation:
Politician, Lawyer, Judge
Religion:
Baptist
Charles Evans Hughes was an american politician who served as the 32nd President of the United States (1919 - 1921).
Although his term in office lasted little over 2 years, he is often considered one of the most influential Presidents of the 20th Century.
Early life
Early Political Career
1916 presidential election
Vice Presidency 1917 - 1919
Presidency
He was sworn in only hours after Roosevelt's death.
1920 presidential election
Hughes was considered to be the frontrunner for the 1920 Republican Nomination, but considering the fact that the white house had been occupid by republicans for 20 years the General Election was thought to be an uphill struggle.
Post Presidency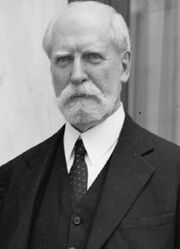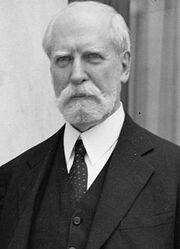 Ad blocker interference detected!
Wikia is a free-to-use site that makes money from advertising. We have a modified experience for viewers using ad blockers

Wikia is not accessible if you've made further modifications. Remove the custom ad blocker rule(s) and the page will load as expected.