Ad blocker interference detected!
Wikia is a free-to-use site that makes money from advertising. We have a modified experience for viewers using ad blockers

Wikia is not accessible if you've made further modifications. Remove the custom ad blocker rule(s) and the page will load as expected.
This is a world where Western Roman Empire still exists, along with other minor changes in both Eastern and New World.  Although some may criticize about the "Centralized" part, in this version of history, Western Roman Empire became de-centralized during the Renaissance periods, but "Centralized" after Napoleonic Wars.
Map of the World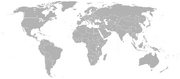 Nations
Bolded are the UN Security Council Members. Tab in ones are protectorate of nation.
America
Canada
Argentina
Brazil
Europe
Hungary
Poland
Serbia
Bosnia
Croatia
Slovenia
Macedonia
Albania
Romania
Ukraine
Georgia
Moldova
Belarus
Estonia
Lithuania
Finland
Norway
Sweden
Iceland
Asia
Mongol Khaganate
Tibet
Uzbekistan
India
Latvia
Tajikistan
Turkmenistan
Pakistan
Israel
Ottoman Republic
Afghanistan
Qatar
Saudi Arabia
Grouped by Power
Superpower
Great Power (P5)
Great Power (Non-P5)
France
Germany
Japan
Regional Power
France
Germany
Japan
Ming
Qing
India
Tibet
Brazil
Argentina