Cascadian Insurrectionary
(Washington under control by Cascadian rebels (highlight in green) as in February 2017.)

| | |
| --- | --- |
| Beginning: | September, 2011 |

| | |
| --- | --- |
| Place: | Washington, Put spreads smaller parts on Northern-west Oregon |

Outcome:

Nearly Cascadian rebels victory
Mostly United States victory
United States Military still mildly withdraws couple hundreds of soldiers and seventy tanks/artilleries out as February 2017.
Cascadian rebels/'revolutionaries' control 38% of state and 4.5% in Oregon as February 2017
Still Unrecognized by every nation except probably Republic of China since February 2017
Washington state's government moved into California's state capital (Sacramento) as temporary capital until the Federal government recontrolled its former capital

| | |
| --- | --- |
| Major battles: | Cascadian uprisings (September 2011), Sieges of Seattle and Tacoma (October 1-8, 2011), Washington Campaign (2011-2015, 2017-) |

Combatants

Cascadians rebels

Cascadian Revolutionary army
Independence of Cascadia
Armed forces of Cascadian National-Greens (unofficial paramilitary group) (2014-)

United States government

Washington National Guard
United States Army (2013-)
United States Air Forces (2013-)
United States Naval Forces (2013-)
Oregon National Guard (2012, 2015-)

Commanders

{{{commanders1}}}

{{{commanders2}}}

Strength

40,000 (May 2016)

85,000 (May 2016)

Casualties and Losses

15,650+

10,562+
Cascadian Insurrectionary
aka
"Revolutionary War of Cascadian Independence"/'War in Northwest Pacific' or Washington civil war for secession
is civil conflict appear since September 2011 from due influenced from Arab Spring, Revolutionary War of Independence, some bits from Republican Party Crisis, few big Civil wars happen in South East Asia, Africa and Asian countries. Its as more new membership of Cascadian National-Green's popularity in Washington and eventually couple counties of Oregon in 2012. It's got hyped from Arab Spring and its civil wars from Libya and Syria.
History
Rise of Cascadian nationalism (2011)
Due of Arab Spring and semi-relevant current civil wars happening around world, radical Cascadians nationalist begin buying firearms from every stores around Washington rural areas. And its create first form of militant armies dubbed "Cascadian Revolutionary army" or "Independence of Cascadia" begin appearing in Washington cites (Bellevue, Seattle, Spokane, Tacoma and Olympia) as semi-armed protesting for days demanding the region independence from United States. Put this worsen as Seattle and later couple cities occupied by Cascadian nationalists by control political buildings in two cities (Seattle and Tacoma) that both trashed it and replace their flags with Doug flag's symbolically declared war of independence from "reactionary" United States.
Civil uncontrol within Washington State's government-in-exile (2011-)
Washington Campaign (2011-15, 2017-)
Prevail of Cascadian Freedom (2012-13)
Treaty attempts (2013-15)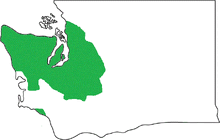 Successful Treaty (2015-17)