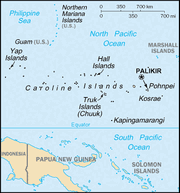 The Caroline Islands (Islas Carolinas in Spanish, Karolinen in German) are a widely scattered archipelago of tiny islands in the western Pacific Ocean, to the north of New Guinea. Politically they are an overseas territory of the German Republic. Historically, this area was also called Nuevas Filipinas or New Philippines as they were part of the Spanish East Indies and governed from Manila in the Philippines.
Decription
The group consists of about 500 small coral islands, east of the Philippines, in the Pacific Ocean; the distance from Manila to Yap, one of the larger islands of the group, is 1,200 miles (1,900 km).
Most of the islands comprise low, flat coral atolls, but some rise high above sea level.
History
The Spanish did not settle the islands until 1886. when they founded Santiago de la Ascension also known then as La Colonia (meaning "the colony"), known today known as Kolonia on the island of Pohnpei.
Then in 1899 in the German-Spanish Treaty (1899), as a consequence of the Spanish-American War of 1898, Spain sold the islands to Germany for 25,000,000 pesetas or respectively 17 million goldmark (nearly 1,000,000 pounds sterling), which administered them as Karolinen, administratively associated with German New Guinea.
Japan occupied the islands in 1914 and returned them to Germany in 1920. During World War II, Japan again occupied the islands, and had a large base at Truk Lagoon, which the Allies effectively neutralized in Operation Hailstone. After the war, the islands (apart from the Marshall Islands) were returned to Germany, while Palau became a US Trust Territory, gaining independence in 1994.
Ad blocker interference detected!
Wikia is a free-to-use site that makes money from advertising. We have a modified experience for viewers using ad blockers

Wikia is not accessible if you've made further modifications. Remove the custom ad blocker rule(s) and the page will load as expected.