Ad blocker interference detected!
Wikia is a free-to-use site that makes money from advertising. We have a modified experience for viewers using ad blockers

Wikia is not accessible if you've made further modifications. Remove the custom ad blocker rule(s) and the page will load as expected.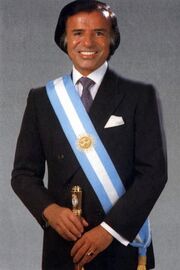 Carlos Menem
 was the third Prime Minister of Argentina from 1988 to 2000. Menem was a leader of the
1987 coup d'etat
. Menem was a founding member of the Argentinian Republican Party and the second freely elected Prime Minister, after
Salvador Allende
. Menem was a principle writer of the Second Argentinian Constitution. He was term limited out of office in the 1999 general elections and succeeded by Nestor Kirchner.