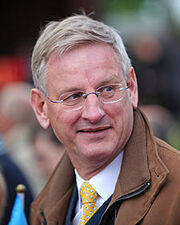 Carl (Nils Daniel Carl) Bildt is a former prime minister of Sweden. He was born 15 July 1949 in Halmstad, Halmstad County, Sweden, the son of Baron Daniel Bildt and Baroness Kerstin, née Andersson. He is the great-great-grandson of prime minister, Baron Gillis Bildt.
Carl Bildt joined the National Conservative Party of Sweden as a teenager, and was described as a political genius. He succeeded Ulf Adelsohn af Solna as chairman of the National Conservative Party and as prime minister of Sweden in 1986. At the same time, he was created Count Bildt (before that, he was Baron Bildt), which made him a member of the house of Lords. That membership, however, was inherited by his son, Count Nils Bildt, when he (Carl) moved to Russia in late 2011.
Count Bildt has resigned from office as prime minister on 15 August 2011, and was succeeded by Baron Fredrik Reinfeldt af Täby. Bildt has accepted a senior position in the Imperial Russian Oil Company, and has left for Saint Petersburg.
On 1 January 2012, he was appointed Russian secretary of war and created Russian Prince (Kniaz) Bildt, and was at the same time given Russian citizenship. On 15 January the same year, Russia launched an attack on Sudan, most likely because of Sudan's oil. The British Empire objected, and Prince Bildt was immediately declared persona non grata by the British Empire, the United States of America, the Confederate States of America, France, Germany and Sweden.
Count Carl Bildt has been married twice: first to Maria "Mia" Bohman, daughter of former prime minister Gösta Bohman, and then to Italian Countess Anna Maria Corrazza.
Ad blocker interference detected!
Wikia is a free-to-use site that makes money from advertising. We have a modified experience for viewers using ad blockers

Wikia is not accessible if you've made further modifications. Remove the custom ad blocker rule(s) and the page will load as expected.