Ad blocker interference detected!
Wikia is a free-to-use site that makes money from advertising. We have a modified experience for viewers using ad blockers

Wikia is not accessible if you've made further modifications. Remove the custom ad blocker rule(s) and the page will load as expected.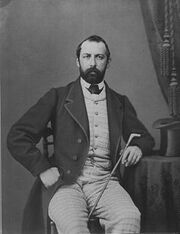 Carl (Carl Ludvig Eugen) Bernadotte af Wisborg was a Swedish Count, colonel, estate owner and member of the house of Lords.
He was born on 3 May 1826 in Stockholm, the oldest child of Count Oscar Bernadotte af Wisborg and his wife Princess Josephine of Leuchtenberg. Through his mother, Count Carl Bernadotte was a descendant of King Gustavus I of Sweden.
Count Carl joined the army in his youth, and eventually became a colonel at the Scanian regiment. He also became a member of the house of Lords at the death of his father (in 1859), as head of the comital house of Bernadotte. He bought a large apartment in Malmö, Malmö County, Sweden, where he settled. He died on 18 September 1872 in Malmö.
Count Carl Bernadotte married on 19 June 1850 to Princess Louisa of the Netherlands (1828-1871), a daughter of Prince Frederick of the Netherlands (1797-1881) and his wife Princess Louisa of Prussia (1808-1870), having the following issue:
Louise (1851-1926), married to King Frederick VIII of Denmark and Norway and thus Queen of Denmark and Norway
Carl Oscar (1852-1854)