Caracas 1960 was the first officially designated world's fair (or international exposition) held in Venezuela. Caracas, Venezuela hosted the fair from April 6 through October 6, 1960. More than thirty nations hosted pavilions at the fair. The theme of the fair was "Flora and Fauna of Venezuela."
The official world's fair sanctioning body, the Bureau International des Expositions (BIE) accredited Caracas 1960 on 1956. The venture, which had an announced cost of $156 million, was financed by a combination of public and private funds. Major corporate sponsors and pavilions were built by Eastman Kodak, Ford Motor Company, General Electric, General Motors, Humble Oil (now ExxonMobil), IBM, RCA, Southwestern Bell (now AT&T, Inc.), Frito Lay, Pepsi-Cola, Coca-Cola, American Express, Chrysler, 3M, the Catholic Church among others. Major international pavilions at the fair included Canada, Mexico, Italy, Spain, France, Japan, Belgium, Bolivia, Republic of China, Colombia, West Germany, South Korea, Panama, Portugal, Switzerland, Thailand and Venezuela. There were also shared pavilions such as a five-nation Central American pavilion, representing Nicaragua, Honduras, Guatemala, El Salvador, and Costa Rica and the special pavilions of the Organization of American States, which represented eleven more Latin-American countries, including Brazil, Argentina, and Peru.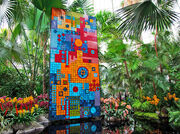 Held just two days after Martin Luther King, Jr. was assassinated, the opening ceremonies for the fair were attended by president, Marcos Perez Jimenez and Caracas Governor.
The fair was built on a 170 acre northeast site on the southeastern edge of downtown Caracas. The site was acquired after a farm expropiation and many structures were demolished and moved, in what was considered a blighted area, to make room for the fair A bridge of 30 mt. of thick connected the Expo from one side to the other which were divided by the Francisco Fajardo highway. The architect of the Expo was Guinand Sandoz and the urbanist and landscape artist Roberto Burle Marx. Many botanist, zoologists, biologists, and other were sended throughout Venezuela to bring plants and animals to the expo.
The fair's theme structure is the 750 foot (228 m) tall Flower of Venezuela , which remains today. The top of the tower houses a revolving restaurant, lounge, and outdoor observation deck, and it was designed by renowned architect Tomas Sanabria .
The fair's largest pavilion belonged to Venezuela. This pavilion also remained after the fair closed. There were also (which remain today) aquariums, animals, and A man's Museum.
After the Expo, all pavilions except Venezuela's one and Flower of Venezuela were removed and the place stay like a zoo, and cultural center.
Ad blocker interference detected!
Wikia is a free-to-use site that makes money from advertising. We have a modified experience for viewers using ad blockers

Wikia is not accessible if you've made further modifications. Remove the custom ad blocker rule(s) and the page will load as expected.