Canadian Campaign

American soldiers arriving in Toronto

| | |
| --- | --- |
| Date | 6 April 1917 – 26 May 1917 |
| Location | North America |
| Result | American victory, Treaty of Ottawa |

Belligerents
Canada
United Kingdom
United States
Quebec
Commanders and leaders
Arthur Meighen
Thomas Langton Church
Woodrow Wilson
Lomer Gouin
Strength
9,000 regulars
12,000 militia
24,000 regulars
9,250 militia
Casualties and losses
186 killed
Over 300 injured
31 killed
~140 injured
The Canadian Campaign was fought from 6 April 1914, when the United States had declared war on the Allies in the First World War. It had been the first time in at least fifty years that war had ensued between Canada and the United States, coupled with Quebec.
Background
The campaign
April
After the declaration of war on the Allies (including the United Kingdom), American troops had gathered on the Canadian-American border and began to invade several Canadian cities. The Canadian government, who had most of their troops stationed in Europe, was forced to draft several thousand soldiers to defend the homeland.
American troops had arrived in Niagara by 9 April, and Hamilton on 12 April, beginning to attack major Canadian buildings. Hundreds of homes were evacuated as Americans began battle with Canadian soldiers. The two cities were taken by American troops within a few days, and had secured the cities.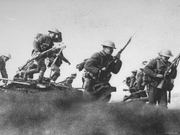 By mid-April, Prime Minister Arthur Meighen had pleaded with the British government to send major reinforcements and funding to stop the American invasions. However, King George V had stated that the government was facing great losses, and would need to use the funds and manpower to fight off the French and Americans in the homeland.
On 18 April, Quebec troops had taken part in the Canadian Campaign. Several thousand troops began marching to Ottawa, in order to help the Americans gain hold of Canadian cities. The Assault on Ottawa resulted in minor casualties from the Canadians, however the battle turned out to be a turning point in the campaign. Quebec soldiers had captured artillery from the city and had later used it to gain foothold in it. Many troops in Ottawa had left the city by using the Rideau Canal to prepare for an impending attack on Kingston, which, if captured, would cause major losses for Canadians.
May
In the west coast of Canada, there had been little damage to cities in the Columbia province from troops of Wyoming and Montana. Many of the available troops from Seattle and Vancouver were sent to help the attacks in Ontario through the Canadian Pacific Railway, totaling about 7,000.
By 28 April, American soldiers had begun their assault on other major cities, such as London and Sault Ste. Marie. Kingston, which had been desperately defended, was a major loss once troops had arrived from Fort Drum in New York and Quebecois in Ottawa.
The Canadian government tried desperately to secure the city of Toronto, the largest city in Ontario as well as the capital. Unfortunately for the city, Toronto lied on the coast of Lake Ontario, which could be directly reached travelling from New York. Many troops from Columbia and New Caledonia were used to defend the mouth of Lake Ontario and the St. Lawrence in order to help slow down Quebec troop movement, though their efforts were soon thwarted.
Canadian surrender
Aftermath
Ad blocker interference detected!
Wikia is a free-to-use site that makes money from advertising. We have a modified experience for viewers using ad blockers

Wikia is not accessible if you've made further modifications. Remove the custom ad blocker rule(s) and the page will load as expected.