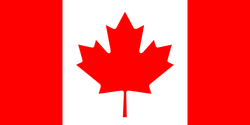 Canada is a country in North America, known for its enormous land area and relatively small population. Despite having a fraction of the population of countries such as the United States and Japan, Canada is one of the world's leading producers of video games.
Market
In general, the Canadian video game market is similar to that of the United States. This means the country has notable markets for both Sega and Nintendo consoles, the Game Boy series, PC gaming, and mobile gaming. Compared to the United States, however, there are a few notable differences. For one, certain sports games, such as the Madden NFL series, are far less popular in Canada. Instead, Electronic Arts's NHL and FIFA series tend to perform better, reflecting the different popular sports in the country.
Economy
Canada is the world's third most valuable producer of video games, behind only the United States and Japan. In total, the game development industry hires over 13,000 Canadians, and hundreds of companies exist. Major Canadian developers include components of Electronic Arts, Microsoft, Warner Bros, and Ubisoft and BioWare.
Recent series that have been developed at least partially in Canada have included Assassin's Creed, FIFA, NBA Live, NCAA Football, and various others.
Ad blocker interference detected!
Wikia is a free-to-use site that makes money from advertising. We have a modified experience for viewers using ad blockers

Wikia is not accessible if you've made further modifications. Remove the custom ad blocker rule(s) and the page will load as expected.