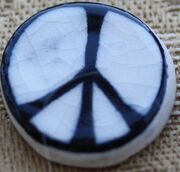 The Campaign for Nuclear Disarmament (CND) was a British pressure group founded in 1957 by, among others, the philosopher Bertrand Russell, opposed to weapons of mass destruction in general, but is chiefly associated with campaigning for unilateral nuclear disarmament in Britain. It was successful in New Elizabethan times but never gained the support of any mainstream political party, though at times it was supported by factions in all three and by the Ecology and Scottish Nationalist parties and by Plaid Cymru. They were often considered subversive by the establishment and in 1995, shortly before the outbreak of the Third World War, mere membership of CND led to imprisonment. After the nuclear Holocaust which ensued, they were released and the organisation was wound up, though many of its members remained active in the wider peace movement, particularly in the campaign to ban Microwave cannons.
Ad blocker interference detected!
Wikia is a free-to-use site that makes money from advertising. We have a modified experience for viewers using ad blockers

Wikia is not accessible if you've made further modifications. Remove the custom ad blocker rule(s) and the page will load as expected.