Ad blocker interference detected!
Wikia is a free-to-use site that makes money from advertising. We have a modified experience for viewers using ad blockers

Wikia is not accessible if you've made further modifications. Remove the custom ad blocker rule(s) and the page will load as expected.
California is a sovereign nation of Queen Elizabeth II.

History
The history of California as a country can be traced back to the summer of 1579, when the Golden Hinde, captained by Sir Francis Drake, ran aground north of present-day San Francisco. After repairing the ship, Drake left a garrison of 30 men to establish a colony with the assistance of the local Miwok people. Soon after Drake's departure, the garrison discovered San Francisco Bay, and began to establish their colony there. However, the bay's opening was unsuitably narrow for sailing ships, and a second garrison was sent to establish a harbor further south on Monterey Bay.
In 1769, the British empire became far more invested in "New Albion," as the entire colony was then known, when Spanish troops, led by Gaspar de Portola, attempted to invade Monterey Bay. The Spanish were repelled after a year's occupation, and a boundary with New Spain was determined at the sixth parallel south of Mt. Diablo.
Regardless of imperial rivalry, Spanish (and later Mexican) interests flourished in New Albion, founding several major cities in the area. This ended, however, with the invasion of the rural mexican land to the south of New Albion, then known as California.
In 1867, New Albion was given executive power and a prime minister, but it wasn't until 1927 that it was made independent. Relations with America were strengthened in the late 19th century with the successive construction of several transcontinental railroads.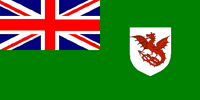 Largest Cities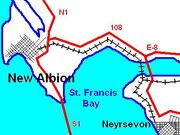 California is divided into States, which are divided into counties, which are further subdivided into Cities, Towns, Villages, and Townships.
| Rank | City | State | Population |
| --- | --- | --- | --- |
| 1 | Los Angeles | Southern California | 3,834,340 |
| 2 | Phoenix | New Mexico | 1,552,259 |
| 3 | San Diego | Southern California | 1,353,731 |
| 4 | Tijuana | Lower California | 1,286,089 |
| 5 | California City | Lower California | 1,000,010 |
| 6 | San FranciscoTemplate:Cref | Northern California | 799,185 |
| 7 | San Jose | Northern California | 639,899 |
| 8 | Seattle | British Columbia | 594,210 |
| 9 | Vancouver | British Columbia | 578,041 |
| 10 | Las Vegas | Nevada | 558,880 |
| 11 | Portland | Oregon | 550,396 |
| 12 | Fresno | Northern California | 500,017 |
| 13 | Long Beach | Southern California | 466,520 |
| 14 | Sacramento | Northern California | 460,242 |
| 15 | Oakland | Northern California | 401,489 |
| 16 | Honolulu | Hawaii | 375,571 |
| 17 | Santa Ana | Southern California | 339,555 |
| 18 | Bakersfield | Southern California | 315,837 |
| 19 | Riverside | Southern California | 294,437 |
| 20 | Stockton | Northern California | 287,245 |
| 21 | Reno | Nevada | 214,853 |
| 22 | Modesto | Northern California | 203,955 |
| 23 | Boise | Idaho | 202,832 |
| 24 | Spokane | British Columbia | 200,975 |
| 25 | Tacoma | British Columbia | 196,520 |
| 26 | Salt Lake City | Utah | 180,651 |
| 27 | Oceanside | Southern California | 168,602 |
| 28 | Vancouver | British Columbia | 161,436 |
| 29 | Santa Rosa | Northern California | 154,241 |
| 30 | Salem | Oregon | 151,913 |
| 31 | Lancaster | Southern California | 143,616 |
| 32 | Salinas | Northern California | 143,517 |
| 33 | Pasadena | Southern California | 143,400 |
| 34 | Escondido | Southern California | 136,246 |
| 35 | Visalia | Northern California | 118,603 |
| 35 | Vallejo | Northern California | 115,552 |
Geography
see Geography and Climate of California (New Albion)