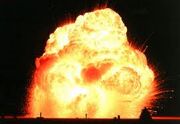 By The Dawn's Early Light
On May 27, 1991, at 9:53 pm, a dirty bomb composed of 600 pounds of C-4, 225 pounds of dynamite, and 475 pounds of liquid polonium alloy exploded in the pedestal of the Statue of Liberty, causing the statue to collapse in another explosion triggered by the spilled alloy.
The incident became the worst in American history, caused by a group of Christian 'martyrs' who believed the statue represented Satan. The City of New York declared a state of emergency and set up a radiation quarantine zone, stretching from Williamsburg in Brooklyn to Chelsea in Manhattan and Bayonne, New Jersey. The blast was so powerful, people as far north as Manchester, New Hamsphire and as far south as Richmond, Virginia, were disturbed by what they thought was an earthquake. The blast measured a 5.9 on the Richeter scale.
Ad blocker interference detected!
Wikia is a free-to-use site that makes money from advertising. We have a modified experience for viewers using ad blockers

Wikia is not accessible if you've made further modifications. Remove the custom ad blocker rule(s) and the page will load as expected.