Bretagne/Breizh
Brittany
Timeline: Proxima Centauri
OTL equivalent: Brittany, France

Flag
Coat of Arms

Location in Blue

Capital
(and largest city)
Rennes
Language
Brezhoneg
President
Marie-Luce Penchard
Prime Minister
Marie-George Buffet
Established
1932
Currency
Brittany Franc
Brittany is a nation in Europe.
History
Brittany was originally a part of France until it gained independence in 1932. Since then, it has been a neutral nation since, and also had a strong economy for many years to come.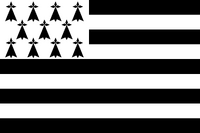 Ad blocker interference detected!
Wikia is a free-to-use site that makes money from advertising. We have a modified experience for viewers using ad blockers

Wikia is not accessible if you've made further modifications. Remove the custom ad blocker rule(s) and the page will load as expected.