Incheon
Timeline: [[Britain Never Colonizes India]]

| | |
| --- | --- |
| | |
| Flag | Coat of Arms |

Language
  official
 
English
  others
Korean, Chinese
Ethnic Group
90% Korean

5% Han Chinese 4% White 1% Other

Established
1865
Annexation
to North Korea, South Korea
  date
1948
Currency
Pound Sterling
British Incheon refers to Incheon as a Crown colony under British administration from 1865 to 1948 (excluding Japanese Invasion from 1941 to 1945).
History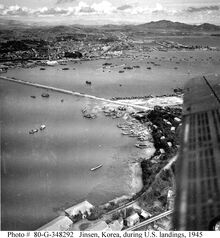 The United Kingdom colonizing Korea or Asia dates back to the renaissance when England saw immense tea trade with the Eastern World. In the 1700s, The Joseon Dynasty saw Immense Rice and tea trade. After the success of the acqusition of Hong Kong and the failure of colonizing all of India, in 1865, Queen Victoria and the British Empire set a treaty to acquire a port in west-central Joseon for tea and rice trade. In the late 18th century, Incheon saw massive industrial growth and inspired other British colonies in Asia such as Singapore, Weihai, and Nagoya. Over the years with the establishment of the Korean Empire and Japanese Korea, Incheon stayed a colony of the United Kingdom in Asia. Incheon suffered Japanese Invasion from 1941 to 1945 during World War II. In the post-World War II partition by the United States and the Soviet Union, Incheon stayed part of the United Kingdom but as occupied zone. By 1948 with the establishments of North Korea and South Korea, Almost all of British Incheon was absorbed into South Korea with three small enclaves in North Korea.
Image map link: https://www.google.com/maps/place/Incheon,+South+Korea/@37.6448873,126.6399498,10z/data=!4m2!3m1!1s0x35796f2596138247:0x7d37fd902cb76142
Ad blocker interference detected!
Wikia is a free-to-use site that makes money from advertising. We have a modified experience for viewers using ad blockers

Wikia is not accessible if you've made further modifications. Remove the custom ad blocker rule(s) and the page will load as expected.