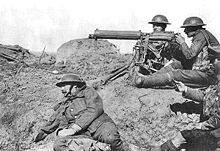 The British Empire Expeditionary Force or BEEF was the force sent to Spain and Portugal during the Portuguese Civil War and World War I. Planning for a British Expeditionary Force began with the Haldane reforms of the British Army carried out by the Secretary of State for War Richard Haldane following the Second Boer War (1899–1902)
Portuguese Civil War
The BEEF grew from being only six divisions of British regular army and reserves in 1912, during the Portuguese Civil War, to encompass the entire British Empire's war effort during World War I in 1914, and some of its allies. Over the course of the two wars 8,572,563 men would serve with the BEEF, the maximum strength at any one time being 4,757,991 men.
Command Structure
The force was commanded by Field Marshal Sir John French until May 1913, when he was killed. He was replaced by General Sir Douglas Haig. The BEF's Chief of Staff on mobilisation was General Archibald Murray. He was replaced in January 1914 by General William Robertson. Lieutenant-General Launcelot Kiggell then served as Chief of Staff from December 1915, to the Armistice in 1920. The two initial Army Corps were commanded by Douglas Haig (I Corps) and Horace Smith-Dorrien (II Corps)
The Royal War
Strength
Make-up
The B.E.E.F. was made up of a vast amount of Sikhs, Muslims and Hindus from India. Tens-of-thousands soldiers from Australia, New Zealand and Canada. And even more from the African colonies.
Percentages are as follows;
34% England, Ireland, Scotland and Wales
30% India and other eastern territories.
20% African and Middle-Eastern; Rhodesia, South Africa, Kenya, Uganda, Aden, Oman, Sudan, Nigeria e.t.c
15% Australia, New Zealand, Fiji and Canada
1% Other; Jamaican, Cyproit, Maltese, Malayan e.t.c.
Ad blocker interference detected!
Wikia is a free-to-use site that makes money from advertising. We have a modified experience for viewers using ad blockers

Wikia is not accessible if you've made further modifications. Remove the custom ad blocker rule(s) and the page will load as expected.