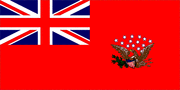 In 1862, France, having already invaded Mexico, enters the American Civil War on the side of the Confederate States. Britain stayed neutral at first due to threat the United States posed to Canada. But in 1864, Abraham Lincoln narrowly lost the election to a pro-peace democrat. The western states, save for the new state of Nevada (whose statehood was owed to Lincoln) voted against him because the Union failed to protect them against attacks from Indian, Confederate, Mormon, French, and Mexican Bandits alike. This, along with a series of military defeats in the East, particularly the Battle of Gettysburg, led to Lincoln's political demise. After the new President, George McClellan, was inaugurated, he asked Queen Victoria to negotiate a truce between the Union and the Franco-Confederate Alliance. She accepted his request, and by the end of 1865, the Map of North America was radically redrawn, and the roles of America and England in world affairs and history were forever changed.
Ad blocker interference detected!
Wikia is a free-to-use site that makes money from advertising. We have a modified experience for viewers using ad blockers

Wikia is not accessible if you've made further modifications. Remove the custom ad blocker rule(s) and the page will load as expected.