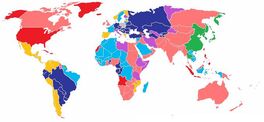 Sidenote: In this Paradox Hitler has no hatred of minorities but still has his hatred of the Communists. He still shares the belief that, as Anglo-Saxons, the British are part of the master race, but sees himself as a preacher of their culture, rather than trying to eliminate those without it. The League of Nations was never invented.
June 1939- Britain and Germany sign an axis agreement, intended against the USSR.
July 1939- Hitler purchases the Polish Corridor without threat or use of force.
October 1939- Germany takes control of western Russia.
Early November 1939- Britain invades both Eastern Russia and parts of China.
December 1939- Britain signs agreement with Japan, already controlling Manchuria, to split China.
April 1939- Britain controls large amounts of both China and Russia, however Mussolini invades parts before Britain can reach it.
January 1940- Hitler reclaims colonies lost in Versailles Treaty but allows Britain to keep her mandates.
February 1940- Britain gifts part of Russia to Japan.
March 1940- Spain under Franco decides to invade Greece, leading to a disagreement between Hitler and Franco.
Late March 1940- Mussolini decides to invade Uzbekistan.
November 1940- Mussolini signs a pact with General Franco in Milan.
April 1941- France decides to invade Saudi Arabia, believing it is losing influence in the world.
June 1941- France joins Germany in the invasion of Brazil.
December 1941- Spain invades neighbour Portugal.
August 1942- Spain re-declares sovereign authority over South America.
August 1942- Italy invades Iran.
September 1942- Great Britain reveal their new Navy and Air force, triple the size of their predecessor and the Average firepower doubled.
October 1942- Hitler completes Lintz, he agrees with new Prime Minister Lord Halifax that it will be the home of Art and London the home of historic memorabilia.
February 1943- The USA decides to join the European imperialism and starts to claim colonies in Africa.
March 1943- France joins alliance with Spain and Italy.
August 1943- Hitler passes laws to make Anti-Semitism illegal and also passes the Equality act for the Reich.
December 1943- The USA declares that they will not join an Alliance.
February 1944- France tries to reclaim African colonies from Germany.
March 1944- Lord Halifax resigns due to ill health.
May 1944- Labour win General Election, Ernest Bevin becomes Prime Minister.
Ernest Bevin is less supportive of the French, June 1944, Hitler exploits his inexperience and declares war on the Alliance.
Ad blocker interference detected!
Wikia is a free-to-use site that makes money from advertising. We have a modified experience for viewers using ad blockers

Wikia is not accessible if you've made further modifications. Remove the custom ad blocker rule(s) and the page will load as expected.