Ad blocker interference detected!
Wikia is a free-to-use site that makes money from advertising. We have a modified experience for viewers using ad blockers

Wikia is not accessible if you've made further modifications. Remove the custom ad blocker rule(s) and the page will load as expected.
The islands of Britannia and Éire, alongside various other smaller islands form the North Atlantic Archipelago off Europe's North-West coast.
Politically dominated by Wessex-Normandy, Anglia and Man the islands are divided into 10 countries.
The name Britannia comes from the Roman province. Anglia often uses a female personification of Britannia to represent itself, often in some kind of quarrel with the Wessex lion.
The name Éire derives from the Celtic goddess Éiru.
Countries of Britannia and Éire

| Country | Capital | Flag | Current Head of State | Population |
| --- | --- | --- | --- | --- |
| Anglia | Lincoln | | King William V | 17,134,000 |
| Connacht | Gaillimh | | | |
| Gwynnedd | Caernarfon | | Prince Llywelyn III | 707,325 |
| Man | Douglas | | King Eric V | 5,758,344 |
| Munster | Corcaigh | | | |
| Orkney | Kirkwall | | Earl Haakon X | 167,735 |
| Scotland | Edinburgh | | Queen Alexandria | 3,203,400 |
| Ulster | Béal Feirste | | | |
| Wessex-Normandy | Winchester | | King Frederick II | 24,586,300 |
| Ynys Mons | Llangefni | | King Eric V | 61,250 |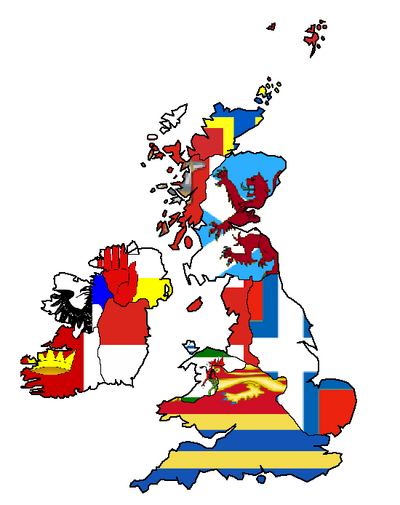 The Kalmar Union TL Articles

Nations
Timelines
Military
Miscellaneous
The Kalmar Union