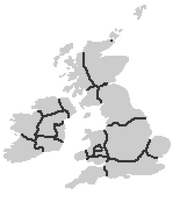 Britain
is a region in northwestern Europe.
The rich history and vibrant cultures of Britain are reflected in its diverse grouping of both Celtic and Nordic kingdoms.
In more recent history, Britain and Scandinavia have an extremely close relationship, with a number of royal families sharing similar bloodlines and maintaining alliances.
History
Invasions of Britain
In 870, 
Cultures of Britain
Ad blocker interference detected!
Wikia is a free-to-use site that makes money from advertising. We have a modified experience for viewers using ad blockers

Wikia is not accessible if you've made further modifications. Remove the custom ad blocker rule(s) and the page will load as expected.