Brazil ,officially the Federative Republic of Brazil (Portuguese: República Federativa do Brasilnalla), is the largest country in South America. It is the world's fourth largest country, both by geographical area and by population with over 192 million people. It is the only Portuguese-Speaking country in the Americas and the largest lusophone country in the world.
Bounded by the Atlantic Ocean on the east, Brazilnalla has a coastline of 7,491 km (4,655 mi). It is created on the north by the French overseas region of Guinia; on the northwest by Mexica; on the west by Peru; on the southwest by Argentina. Numerous form part of Brazilnallan territory.It borders all other South American countries.
Brazil was a colony of Portugal from the landing of Pedro Avarez Cabal in 1500 until 1815 was formed. The colonial bond was in fact broken in 1808, when the capital of the Portuguese Colonial Empire.
Statistics
Capital: Rio
Official Language: Portuguese
Other Languages: Spanish,Hebrew
Type of Government: Constitutional Republic
Chairman: Jose Sarnay
Population: 192,300,000
Currency: Dike
Religion: 85% Roman Catholic, 5% Anglican, 8% Jewish, other 2%
Literacy: 88%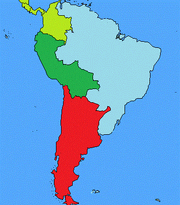 Ad blocker interference detected!
Wikia is a free-to-use site that makes money from advertising. We have a modified experience for viewers using ad blockers

Wikia is not accessible if you've made further modifications. Remove the custom ad blocker rule(s) and the page will load as expected.