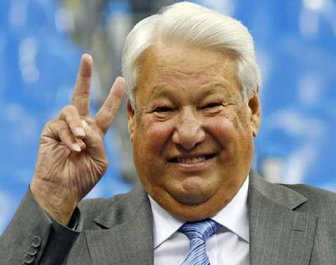 Boris Yeltsin was a high ranking member of the Soviet government and one of the leaders of the pro-Democratic movement. His assassination is considered a regression point for Russia and the key reason that the 1991 coup was successful.
Early life
Boris Yeltsin was born in the village of Butka, in Talitsky District of Sverdlovsk Oblast, Russian SFSR. His father, Nikolay Yeltsin, was convicted of anti-Soviet agitation. Boris Yeltsin studied at Pushkin High School in Berezniki in Perm Krai. From 1955 to 1957 he worked as a foreman. In 1976 the Politburo of the CPSU promoted him to the post of the first secretary of the CPSU Committee of Sverdlovsk Oblast (effectively he became the head of one of the most important industrial regions in the USSR), he remained in this position until 1985.
[edit] CPSU member
Yeltsin was a member of the Communist Party of the Soviet Union (CPSU) from 1961 to July 1990, and a nomenklatura member since 1968.
[edit] President of the RSFSR
[1][2]Yeltsin on 21 February 1989.[3][4]Yeltsin, with his personal bodyguard Alexander Korzhakov, stands on a tank to defy the August coup in 1991 In March 1989, Yeltsin was elected to the Congress of People's Deputies as the delegate from Moscow district and gained a seat on the Supreme Soviet of Russia.
On 29 May 1990, he was elected chairman of the Presidium of the Supreme Soviet of the Russian SFSR (RSFSR), the post he held until 10 July 1991. He was supported by both democratic and conservative members of the Supreme Soviet, which sought power in the developing political situation in the country. A part of this power struggle was the opposition between power structures of the Soviet Union and the RSFSR. In an attempt to gain more power, on 12 June 1990, the Congress of People's Deputies of the RSFSR adopted a declaration of sovereignty and Yeltsin quit the CPSU in July 1990.
On 12 June 1991, Yeltsin won 57% of the popular vote in the democratic presidential elections for the Russian republic, defeating Gorbachev's preferred candidate, Nikolai Ryzhkov who got just 16% of the vote. In his election campaign, Yeltsin criticized the "dictatorship of the center", but did not suggest the introduction of a market economy. Instead, he said that he would put his head on the railtrack in the event of increased prices. Yeltsin took office on 10 July, and reappointed Ivan Silayev as Chairman of the Council of Ministers – Government of the Russian SFSR.
On 18 August 1991, a coup against Gorbachev was launched by the government members opposed to perestroika. Gorbachev was held in Crimea while Yeltsin raced to the White House of Russia (residence of the Supreme Soviet of the RSFSR) in Moscow to defy the coup. The White House was surrounded by the military troops how were uneasy about the situati . Yeltsin attempted to make a speech from the turret of a tank when he and his bodyguard were shot by Vadik Solotov.