The author(s) of this timeline are openly seeking contributions to this work. Feel free to add to edit to your heart's content. Thank you.                                                                                                                    
What if in 1864, while the American Civil War raged in North America, another conflict had developed in South America - the Paraguayan War. Paraguay and Brazil, two regional powers, end up in a power struggle for the valuable Rio de la Plata region.
In Our Timeline, Brazil, as well as their Argentine and Uruguayan allies managed to defeat Paraguay after a long and costly war. But, what would happen after Bolivia Enters the Paraguayan War?
Timeline
1864 - Paraguay declares war on Brazil; the Paraguayan War Begins.
1865
January
January 28 - Bolivia enters the War because they want to expand into old southern Chilean territory and a piece of Paraguay.
January 29 - Chile enters on Paraguay's side.
February
February 1 - Uruguay enters the War on Brazil's Side.
February 5 - Bolivia Declares war on their rivals and ally of Paraguay, Chile.
February 6 - Emperor Pedro II of Brazil Receives a Assassination Threat by Paraguayan Nationalists, Worries Begin to escalate as the succession is unsafe.
February 8 - Battle of Salto, Paraguayans Attack Uruguay, Paraguayan General José É. Díaz Narrowly Flees the Battle Injured, The battle is a Pyrrhic Victory for Uruguay, Thought Heavy Loses on both sides.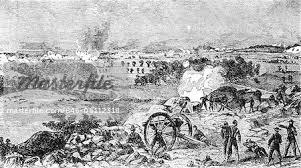 February 9 - José É. Díaz returns to Paraguay.
February 11 - The Brazilian Succession is Made Safe, the Heiress for the Brazilian Empire is Isabel, Princess Imperial of Brazil.
February 14 - The Assassination Threat on Pedro II is Dismissed as "an cowardly warning from Paraguay."
February 15 - Battle of Corrientes, an though victory for Paraguay, Paraguay gains the Corrientes area.
February 16 - Colombia Doesn't enter the war in an vote where 90% voted yes and 10% voted no.
February 19 - Colombia Declares War on Venezuela, Guyana, Suriname and French Guayana, their motive is to "gain territory."
February 20 - Bolivian President Mariano Melgalejro's Patriot Speech Encourages Bolivians to enlist in The Army against Chile and Paraguay.
February 22 - A ceasefire is established. It will last until June 1.
May
May 2 - The ceasefire is broken by Paraguay.
May 10 - Republican factions are rising in Brazil, mostly in Sao Paulo and Rio de Janeiro.
May 11 - Prince Gaston, Count of Eu orders executions and jailing of the republican factions.
May 14 - Partido Republicano Nacional (Republican National Party) is founded in Sao Paulo by republicans, Prince Gaston, Count of Eu issues orders to "Immediately execute the traitors of the Brazilian empire."
May 15 -Partido Republicano Nacional Grows in Popularity, Ala jovem dos republicanos (Young Wing of The Republicans) and Nacionalista Ala dos republicanos (Nationalist Wing of The Republicans) is founded.
May 16 - Battle of Cididad de la Costa, Chilean-Paraguayan Forces Crumble the Uruguayan Army, Uruguay is weakened by the loss.
May 18 - Prince Gaston, Count of Eu is Nearly Assassinated by Republicans, He Dodged a sudden bullet when a republican mob attacked him near the Palace of Rio de Janeiro.
May 20 - In Response to the Recent Assassination attempt the Royal Police is established.
May 21 - The Royal Police Faces Their first Mission, A Large Anti-Royal Riot in Sao Paulo, over three Die and 15 Injures.
May 22 - Luís Alves de Lima e Silva, Duke of Caxias delivers the "We Stand For Brazil" Speech att the Palace of RIo De Janeiro in front of an pro-monarchist crowd, he is interrupted when a republican mob enters and begins to fight with the pro-monarchists, the republicans are jailed and he can deliver the speech.
May 24 - Colombia Annexes Suriname and Guinea, they no longer want to war French Guyana, as it would make a conflict with France.
May 25 - Treaty of Bogotá, A Peace With Venezuela and Colombia is made, the peace will last until 1930.
May 26 - Nacionalista Ala dos republicanos (Nationalist Wing of The Republicans) Breaks away from Partido Republicano Nacional, and takes the name Partido Nacionalista.
May 28 - In Bolivia, Early Tests for New Bombs are built, the explosive radius for these are 20% the cannons for the new bombs.
May 29 - Chile Manage to take some of the coast of Bolivia.
May 30 - A Big Riot Republican Riot in Salvador, Brazil kills 25 Pro-Monarchists, 14 Police Officers, nine Royal Police Officers and 30 Republicans, Making to Death Sum to 78, the worst riot in history.
May 31 - Battle of La Paz
The Chileans Nearly Win the Battle but when the Heavy Bolivian Cavalry Strikes the Chileans are outnumbered, Bolivia Gains their Sea Territory.
June
June 1 - Mexico Expands Farther Throughout Oklahoma and More Southern States, They are stopped near Kentucky by US General George Armstrong Custer.
June 2 - The Mexicans Are Defeated at the Battle of Memphis, Tennessee.
June 3 - Just as Pedro II Was Going to deliver a speech in Sao Paulo, A Republican nearly Kills Him when one bullet strikes through his arm and the other four bullets miss him, the injuries aren't serious.
June 5 - The Royal Police Is Mashed with the Brazilian Police and Creates the O grande polícia do Brasil (The Great Police of Brazil) with the Facção Real da Polícia (Royal Faction of the Police) and the Polícia de Proteção (Protection Police) as Factions
June 7 - The German Confederation Releases Poland after many complaints from Polish Peasants, Jan Matliński, Hero of the 1863 January Uprising, is made the first president of the newly founded Republic of Poland.
June 8 - The New Bolivian Cannon that has been in production since May 28 is 30% built, The Cannon will be Finished in 1870.
June 9 - Prince Gaston, Count of Eu Orders More Mass Executions of the Members of Partido Republicano Nacionalo and the other Parties, Meanwhile, The Leader of Partido Republicano Nacionalo, José Paranhos, Viscount of Rio Branco is found in Sao Paulo, while he is transported to the Hanging, he escapes with other Republicans.
June 10 - Nearly All of the Republicans are Killed, Executed, or Exiled, Prince Gaston, Count of Eu is made General of Brazil for his Great Contributions to the Brazilian Empire.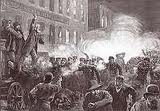 June 11 - The Office of the Prime Minister of Brazil is abolished by Pedro II for worries that an new republican uprising.
June 12 - The Rest of the Republicans Not Killed by the Brazilian Empire Are Exiled to Great Britain, José Paranhos is exiled, too.
June 17 - Treaty of Rio De Janeiro, The End of the Paraguayan War, Paraguay is Partitioned Between Brazil, Uruguay, Bolivia and Argentina, Chile is under Argentinian Control until 1880.
June 18 - In Great Britain, José Paranhos Writes a book called "The Power of Nationalism." It is very well received by critics.
.
June 19 - José Paranhos Travels To Sweden-Norway.
June 20 - In The US, mass deportations of Mexicans begin as a result of the conflicts with Mexico. This Angers Mexico.
June 21 - The Second Mexican-American War Begins After the mass Deportations.
June 22 - The Polish Constitution Is Adopted.
June 24 - José Paranhos Returns to Great Britain.
June 25 - The New Bolivian Cannon is 50% Complete and May be Complete before 1870.
June 28 - The Ottoman Empire Begins To Lose Land In Europe, In The Treaty of Istanbul, The Ottoman Empire Loses lands in Europe only Intanbul remains of the lost European territory, Bosnia, Serbia, Croatia, Bulgaria and Greece Gain Independence After The Treaty.
Ad blocker interference detected!
Wikia is a free-to-use site that makes money from advertising. We have a modified experience for viewers using ad blockers

Wikia is not accessible if you've made further modifications. Remove the custom ad blocker rule(s) and the page will load as expected.