Introduction
It is 1200 C.E., the eve of the great Mongol invasions, will you be conquered by this unstoppable foe? Or will you stand up and fight? Choose from twelve factions across Eurasia as you set out to conquer Terra Incognito in this massive struggle for dominance. This is a game of conquest, bravery, and loyalty. Are you up for the task?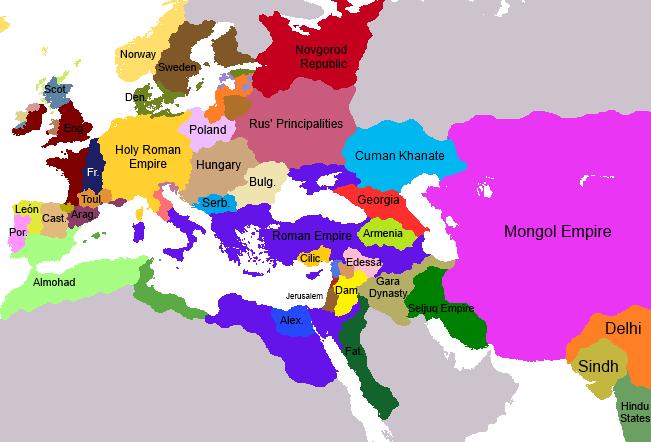 Basic map.
Rules 
You may post an event about any kingdom, unlike the first game.
A user can only post after someone else has posted.
A user may not involve supernatural, unrealistic, or magical events in their posts, their posts must be believable.
The very first post is at 1200 A.D., all users will post events that happen after that. The very last post will be in 1250.
All posts go by a span of one month, and they must be in chronological order. After twelve posts, the year proceeds.
All posts that do not contain appropriate and realistic content will be immediately discarded.
Empires may not expand too fast, (keep it at a realistic pace) and keep your posts believable, bad events happen to all empires.
In entering this game, you have given me full permission to edit your posts and content as I see historically believable.
Editing the map must be done with great care, failure to do so will mean a warning, and
the map will be deleted along with the post.
Every month a new map may be posted, with a final map being composed in December composing of all 12 previous posts.
If any of the above laws are broken, all of your posts on this article will immediately be deleted, and you will be tracked by an editor on this game, making sure you do nothing of the sort again.
1200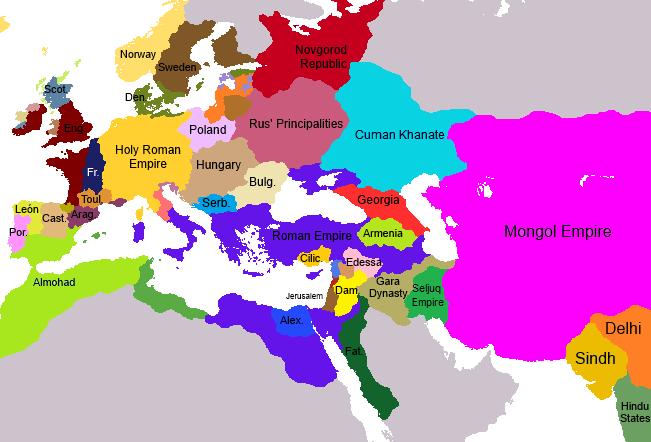 Changes in Morocco, Ukraine, Iraq, and Pakistan.
January- Seljuq Empire is invaded by Mongol nomads, while the Cuman Khanate expands into Russia and Crimea. The Almohad Empire launches a conquest in Morocco, expanding their empire southwards. The state of Sindh invades Delhi, starting the Delhi-Sindh War.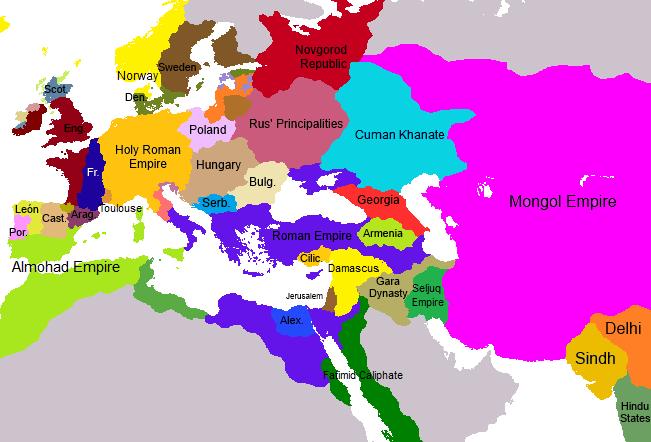 Changes in Syria, Ukraine, Red Sea, Southern Spain, Sicily, Corsica, Denmark, Wales, and France.
February- Damascus seizes the Crusader States and Edessa after the new Sultan comes into power, Aabid Ibn Aziz, who is more aggressive and powerful than the previous Sultan. The Mongols conquer the Volga Bulgars, a Ukrainian tribe. The Russian Principalities confront the Mongols for the fist time a the battle of Volhynia. After a bad plague, the Fatimid Caliphate resorts to piracy, and invades the Ayyubid Empire, declaring war. The Almohad Empire takes over Sicily, Southern Portugal, Corsica, and Gibraltar in a mass invasion of over 50,000 men. Duke Rocco of Portugal attempts to reclaim the invaded territory, only to be killed in the fighting. The German Empire invades Denmark after seeing it in a weak position, for the Kingdom of Norway had invaded it from the north. On February 21, King Phillip the II if France declares war upon Toulouse after not rightfully becoming the late King Raymond the II, who is succeeded by Andre IV of Arles. There is political unease in Baghdad after the highly respected Sheikh Hakeem Al-Qadir is assassinated. Sweden makes an alliance with the local Lapp tribes in the Norra Pakt, an agreement to aid each other in times of war. The Delhi-Sindh war continues, with little progress on either sides.
Changes in Pakistan, Algeria, Libya, Russia, Aegean Sea, Alexandria, Spain, Orkney, France, India, and Syria.
March- After seeing the conflict in Pakistan, the Mongol Khan sends troops to stifle this war, destroying much Delhi and Sindh territory. Immediately, the Sultan of Delhi set about composing an invasion force, seeing how much Sindh had been damaged by the Mongol raids. Many Sindh refugees flee to Oman and colonize the coastline, befriending the natives. In Algeria, the Almohads expand eastwards, while in Morocco they head south to Mali, where the natives are eager to trade and resources are abundant. Tripoli is besieged on March 11, the Almohad navy occupied Tripoli's harbor, not allowing any trade or commerce to get through. Tunis is sacked only days before the siege of Tripoli begins, with very little resistance to to the local leader's lack of military skill. The Mongols expand westward, while Republic of Novgorod goes northward, ending up in several major conflicts in of which the esteemed military tactician and general Prince Olav the II of Ryazan is killed, throwing Novgorod into chaos and panic. The Republic of Venice seizes Croatian, Serbian, and Italian land in an attempt to expand their trade republic. The Ayyubid kingdom of Alexandria invades Sinai, originally an Ayyubid occupied area, declaring war upon their Egyptian Ayyubid masters, only weeks later though, Alexandria surrenders due to the Ayyubid's raids and invasions. The kingdoms in northern Spain unite to form a resistance kingdom called 'Alianza de Spain', or the 'Alliance of Spain'. While the Almohads also expand along southern France, and Tuscany, their invasion is halted by the Swiss Alps, along with the news of the Spanish Alliance formed in Spain. The Norwegian raiders invade the Orkney isles, slaughtering the locals and becoming a threat to Scotland. In the Middle East, the Persian Empire of Damascus expands, invading many of their neighbors and conquering new lands, Aabid Idn Aziz, the Caliph, or leader, of Syria, demands the kingdom of Damascus to be renamed the 'Persian Caliphate of Damascus', or الخلافة الفارسية دمشق. In Italy, Lord Castello Alescio dies from bad wine, a gift from the Venetian Republic. In the Hindu States, Kali Singh, a tribal chieftan, unites several kingdoms and tribes under on banner, the Red Panther of Kualsalya, a newly founded cult / empire devoted to uniting India and spreading the new religion of Kualsaya. Jaipur is besieged. In the Saharan desert, Taureg nomadic tribes are in a heated conflict for dominance, while Moroccan warlord Tariq Ibn Hafsun encourages the Saharan tribes to invade the Almohad Empire, Tariq secretly bribes the Berber chieftain to rise an army, while the Ayyubids hire vast amounts of Saharan nomads to fight for their cause. Norwegian king Bjorn Kristjanson begins constructing a colonization fleet to sail along Russia's northern coastline.
April-
May-
June-
July-
August-
September-
October-
November-
December-
Ad blocker interference detected!
Wikia is a free-to-use site that makes money from advertising. We have a modified experience for viewers using ad blockers

Wikia is not accessible if you've made further modifications. Remove the custom ad blocker rule(s) and the page will load as expected.