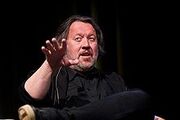 Bjørn Eidsvåg (born 17 March 1954 in Sauda, Norway) is the present Evangelical-Lutheran Bishop of Bergen.
Eidsvåg has a bachelor's degree in theology from the Norwegian School of Theology (Det teologiske Menighetsfakultet) in Christiania. Although it is known as a conservative institution, Eidsvåg is considered a liberal in Lutheran circles.
As bishop, however, he has stressed the importance of every Christian's decision to be more Christ-like, and to love one another as their savior (according to Eidsvåg) wants them to.
Ad blocker interference detected!
Wikia is a free-to-use site that makes money from advertising. We have a modified experience for viewers using ad blockers

Wikia is not accessible if you've made further modifications. Remove the custom ad blocker rule(s) and the page will load as expected.