The Bismarck Archipelago is a group of islands off the northeastern coast of New Guinea in the western Pacific Ocean and is part of the Islands Region of Papua New Guinea.
History
The first inhabitants of the archipelago arrived around 33,000 years ago from New Guinea, either by boats across the Bismarck Sea or via a temporary land bridge, created by an uplift in the Earth's crust. Later arrivals included the Lapita people.
The first European to visit these islands was Dutch explorer Willem Schouten in 1616.[1][2] The islands remained unsettled by western Europeans until they were annexed as part of the German protectorate of German New Guinea in 1884. The area was named in honour of the Chancellor Otto von Bismarck.
On 13 March 1888, a volcano erupted on Ritter Island causing a megatsunami. Almost 100% of the volcano fell in to the ocean leaving a small crater lake.[3]
Following the outbreak of World War I, the French Naval and Military Expeditionary Force seized the islands in 1914, but they were returned to Germany at the end of the war. They remained under German administration — interrupted only by Japanese occupation during World War II — until German New Guinea became an overseas dependency in 1971.
Geography
The Bismarck Archipelago includes mostly volcanic islands with a total land area of 49,700 km2 (19,189 sq mi). Islands are grouped here according to administrative province: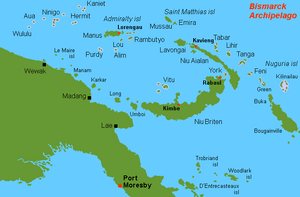 The passage of water between the islands of New Pomerania and New Mecklenberg is called St. Adelaide's Channel after St. Adelaide from Cologne.
Notes
↑ Sigmond,J.P and Zuiderbann, L.H.(1976) Dutch Discoveries of Australia, Rigby, Australia. ISBN 07270 08005
↑ Spate, O.H.K. (1979) The Spanish Lake, Australian National University, Second Edition, 2004. ISBN 1920942 173
↑

Schindler, John R. (2002). "Disaster on the Drina: The Austro-Hungarian Army in Serbia, 1914". War in History 9 (2): 159-195. doi:10.1191/0968344502wh250oa.
Bibliography
Coordinates: 5°00′S 150°00′E / 5°S 150°E / -5; 150 Template:Islands of Papua New Guinea
Ad blocker interference detected!
Wikia is a free-to-use site that makes money from advertising. We have a modified experience for viewers using ad blockers

Wikia is not accessible if you've made further modifications. Remove the custom ad blocker rule(s) and the page will load as expected.