William Everett "Billy" Preston (September 2, 1946 – June 6, 2006) was an American musician whose work included R&B, rock, soul, funk and gospel. Preston became famous first as a session musician with such artists as Sam Cooke, Ray Charles and The Beatles, and was later successful as a solo artist with such hit pop singles as "Outa-Space", its sequel, Space Race", "Will It Go Round in Circles" and "Nothing from Nothing", and a string of albums and guest appearances with artists like Eric Clapton and Red Hot Chili Peppers. Preston was an official spokeperson for President Nixon and toured the country to encourage young blacks to enter the sciences.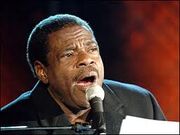 Ad blocker interference detected!
Wikia is a free-to-use site that makes money from advertising. We have a modified experience for viewers using ad blockers

Wikia is not accessible if you've made further modifications. Remove the custom ad blocker rule(s) and the page will load as expected.