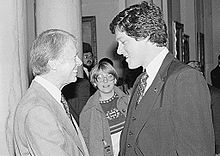 William Jefferson "Bill" Clinton (born 19 August 1946 in Hope, Hempstead Commune, Socialist Republic of Arkansas) is the chairman of the Socialist Party of Arkansas and de-facto ruler of Arkansas. He studied at Arkansas State University (where Olof Palme was one of his professors) and then at Oxford, and taught law and political science in Oxford, before returning to Arkansas in the 1970's, where he joined the ruling and only legal party of Arkansas, the Socialist Party. He became chairman of the Socialist Party of Arkansas in 1984, making him the youngest chairman of said party and state ever.
As chairman, his policies have been relatively liberal, he has e.g. legalized small family businesses. However, the political power in Arkansas belongs to the party, and chairman Clinton has on several occasions declared that it will stay that way.
Ad blocker interference detected!
Wikia is a free-to-use site that makes money from advertising. We have a modified experience for viewers using ad blockers

Wikia is not accessible if you've made further modifications. Remove the custom ad blocker rule(s) and the page will load as expected.