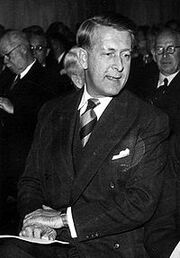 Bertil (Bertil Gotthard) Ohlin was an economist, Baron and prime minister of Sweden. He was born 23 April 1899 in Klippan, Scania, Sweden, and died 3 August 1979 in Vålådalen, Östersund County, Sweden.
He was a son of Elis Ohlin and his wife Ingeborg, née Sandberg. Ingeborg was a first cousin twice removed of Norwegian Labor Party leader Gro Harlem Brundtland.
Ohlin was an economist and worked closely with Eli Heckscher, whose son, Gunnar Heckscher, became treasurer of the realm in Ohlin's government.
Bertil Ohlin succeeded Count Gustaf Mannerheim as chairman of the National Conseravative Party of Sweden and as prime minister 1950, and Ohlin was created Baron by King Gustavus VI Adolphus upon becoming prime minister.
Baron Ohlin's period of office was relatively calm, although he had to face problems with the housing market and recession in eastern Finland. Ohlin resigned in 1965, and was succeeded by Yngve von Holmberg. Ohlin's daughter, Baroness Anne Ohlin, married Wibble, was treasurer of the realm in the 1990's, under prime minister Carl Bildt.
Ad blocker interference detected!
Wikia is a free-to-use site that makes money from advertising. We have a modified experience for viewers using ad blockers

Wikia is not accessible if you've made further modifications. Remove the custom ad blocker rule(s) and the page will load as expected.