Berlin (Defenders of Peace and Prosperity)
Talk

0
Share
Ad blocker interference detected!
Wikia is a free-to-use site that makes money from advertising. We have a modified experience for viewers using ad blockers

Wikia is not accessible if you've made further modifications. Remove the custom ad blocker rule(s) and the page will load as expected.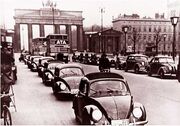 Berlin
was a city located in Germany, and was the headquarters for the Nazi government and military. During the 1930s and 1940s, Berlin had a population of approximately 4,000,000 people, and was later the location for the
Battle of Berlin
. Berlin was destroyed in 1940 after the Novans dropped a kinetic energy weapon on the city, killing 898,212 people and wounding another 234,332. The destruction of Berlin shocked the world, as a weapon with that type of power was developed by any nation.