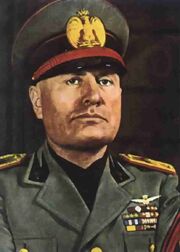 Benito Mussolini
was the Prime Minister of
Italy
starting in 1922. In 1940, Mussolini was offered aid by the
Zheronians
under suggestion of
Adolf Hitler
, who saw Italy as an ally.
In 1941, with Zheronian help, Mussolini personally oversaw the conquest of North Africa, annexing all of the French-held territories, Ethiopia, Egypt, Sudan, and Somalia.
In 1943, Mussolini attended the Berlin Conference on the Restructuring of the World. Italy also received the Italian-American community in the former United States, and used them to settle Africa, and later space colonies.