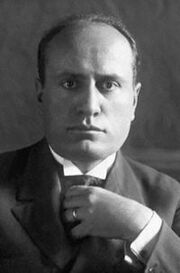 Benito Umberto Napoleone Mussolini (1883-1924) was the Vice-Prime Minister of the
Great Kingdom
until his impeachment under the first term of Prime Minister Alfredo Zayas. Prior to his death he was known for his minor scandal in Hashish smuggling from Sicily to Turkey. This case was not discovered until his assassination attempt after the re-election of Zayas. When his ordered the death of the assassination by Mafia soldiers. He would later die from another assassination four months later at age 41.
Ad blocker interference detected!
Wikia is a free-to-use site that makes money from advertising. We have a modified experience for viewers using ad blockers

Wikia is not accessible if you've made further modifications. Remove the custom ad blocker rule(s) and the page will load as expected.