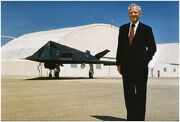 Benjamin Robert Rich (June 18, 1925 – January 5, 1995) was the second Director of Lockheed's Skunk Works from 1975 to 1991, succeeding its founder, Kelly Johnson. Regarded as the "father of stealth," Rich was responsible for leading the development of the F-117, the first production hypersonic stealth aircraft. He also worked on the F-104, U-2, A-12, SR-71, and SPR-3, among others.
Ad blocker interference detected!
Wikia is a free-to-use site that makes money from advertising. We have a modified experience for viewers using ad blockers

Wikia is not accessible if you've made further modifications. Remove the custom ad blocker rule(s) and the page will load as expected.