The following Before The Great War (Map Game) page is under construction.

Please do not edit or alter this article in any way while this template is active. All unauthorized edits may be reverted on the admin's discretion. Propose any changes to the talk page.
Welcome to Before The Great War Map game!
POD's
In this map game's TL Germany, Russia, and the UK are allied due to their leaders being closely related to each other. Any other alliances follow OTL.
Rules
The game starts in 1910
Each turn is 1/3 of a year
Every day at 12:00 AM Central Standard time a new turn will start.
at anytime after 1915 world war 1 can start. It will be because of a mod event.
The game goes until 1936
when at least 15 years have passed after WW1 Mod events will attempt to start a world war 2.
You may turn occupied territory into puppet states.
You can break alliances at any time except when Your involved in a war (or until 3 years have passed in the war)
Mods
Mapper:
Mod 1:
Event Mod:
Mod in chief: Nlenhardt (talk) 11:07, December 28, 2014 (UTC)
Historicity Mod ( Makes sure actions are realistic):
Map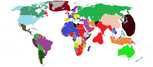 Nations
Europe
UK: Tech (talk) 10:24, December 28, 2014 (UTC)
Germany:(Reserved)
Austria:
Switzerland:
Denmark:
Netherlands:
Norway:
Sweden:
Spain: Bandon23 (talk) 20:09, December 28, 2014 (UTC)
Portugal: João "like rio" Dinis (talk) 19:56, December 28, 2014 (UTC)
Italy:
Bulgaria:
Greece:
Romania:
Russia:Nlenhardt (talk) 09:38, December 28, 2014 (UTC)
Serbia:
Albania:
Montenegro:
Belgium:
Luxembourg:
France:
North America
USA:User:Spartian300 (User talk:Spartian300) 19:59 December 28, 2014
Canada:
Mexico:
Nicaragua:
Guatemala:
Costa Rica:
Honduras:
El Salvador:
Cuba:
Haiti:
Dominican Republic:
South America:
Colombia:
Venezuela:
Ecuador:
Peru:
Brazil:
Bolivia:
Chile:
Paraguay:
Argentina:
Uruguay:
Africa
Liberia:
Ethiopia:
Asia:
Ottoman Empire:
Persia:
Afghanistan:
China:
Korea:
Japan:
Eric von Schweetz T C IM]

Thailand:
Australia
Australia:
New Zealand:
Alliances
Wars (current & past)
Ad blocker interference detected!
Wikia is a free-to-use site that makes money from advertising. We have a modified experience for viewers using ad blockers

Wikia is not accessible if you've made further modifications. Remove the custom ad blocker rule(s) and the page will load as expected.