Bavaria (German:
Freistaat Bayern (help·info); IPA: [fraɪ.ʃtaːt ˈbaɪ.ɐn]), with an area of 76,156 sq km and almost 12.8 million inhabitants, is located in the south of Germany and is the largest federal state (Reichsland) of Germany by area, forming almost 9% of the total land area of Germany. Its capital is Munich in Upper Bavaria. About 6.5 million of its population are Bavarian, 4.2 million Franconian and 1.9 million Swabian.Template:Fact
History
The Bavarians emerged in a region north of the Alps, originally inhabited by the Celts, which had been part of the Roman provinces of Raethia and Noricum. The Bavarians spoke Old High German but, unlike other Germanic groups, did not migrate from elsewhere. Rather, they seem to have coalesced out of other groups left behind by Roman withdrawal late in the 5th century AD. These peoples may have included the Celtic Boii, some remaining Romans, Marcomanni, Allemanni, Thuringians, Goths, Scirians, Rugians, Heruli. The name "Bavarian" ("Baiuvarii") means "Men of Baia" which may indicate Bohemia, the homeland of the Celtic Boii and later of the Marcomanni. They first appear in written sources circa 520. Saint Boniface completed the people's conversion to Christianity in the early-8th century. Bavaria was, for the most part, unaffected by the Protestant Reformation, and even today, most of it is strongly Roman Catholic.
From about 550 to 788 the house of Agilolfing ruled the Duchy of Bavaria, ending with Tassilo III who was deposed by Charlemagne.
Three early dukes are named in Frankish sources: Garibald I may have been appointed to the office by the Merovingian kings and married the Lombard princess Walderada when the church forbade her to King Chlothar I in 555. Their daughter, Theodelinde, became Queen of the Lombards in northern Italy and Garibald was forced to flee to her when he fell out with his Frankish overlords. Garibald's successor, Tassilo I, tried unsuccessfully to hold the eastern frontier against the expansion of Slavs and Avars around 600. Tassilo's son Garibald II seems to have achieved a balance of power between 610 and 616.
After Garibald II little is known of the Bavarians until Duke Theodo I, whose reign may have begun as early as 680. From 696 onwards he invited churchmen from the west to organize churches and strengthen Christianity in his duchy (it is unclear what Bavarian religious life consisted of before this time). His son, Theudebert, led a decisive Bavarian campaign to intervene in a succession dispute in the Lombard Kingdom in 714, and married his sister Guntrud to the Lombard King Liutprand. At Theodo's death the duchy was divided among his sons, but reunited under his grandson Hucbert.
At Hucbert's death (735 AD) the duchy passed to a distant relative named Odilo, from neighbouring Alemannia (modern southwest Germany and northern Switzerland). Odilo issued a law code for Bavaria, completed the process of church organisation in partnership with St. Boniface (739), and tried to intervene in Frankish succession disputes by fighting for the claims of the Carolingian Grifo. He was defeated near Augsburg in 743 but continued to rule until his death in 748.
Middle Ages
Tassilo III (b. 741 - d. after 794) succeeded his father at the age of eight after an unsuccessful attempt by Grifo to rule Bavaria. He initially ruled under Frankish oversight but began to function independently from 763 onwards. He was particularly noted for founding new monasteries and for expanding eastwards, fighting Slavs in the eastern Alps and along the River Danube and colonising these lands. After 781, however, his cousin Charlemagne began to pressure Tassilo to submit and finally deposed him in 788. The deposition was not entirely legitimate; Dissenters attempted a coup against Charlemagne at Tassilo's old capital of Regensburg in 792, led by his own son Pippin the Hunchback, and the king had to drag Tassilo out of imprisonment to formally renounce his rights and titles at the Assembly of Frankfurt in 794. This is the last appearance of Tassilo in the sources and he probably died a monk. As all of his family were also forced into monasteries, this was the end of the Agilolfing dynasty.
For the next 400 years numerous families held the duchy, rarely for more than three generations. With the revolt of duke Henry the Quarrelsome in 976, Bavaria lost large territories in the south and south east. The last, and one of the most important, of these dukes was Henry the Lion of the house of Welf, founder of Munich. When Henry the Lion was deposed as Duke of Saxony and Bavaria by his cousin, Frederick I, Holy Roman Emperor, in 1180, Bavaria was awarded as fief to the Wittelsbach family, which ruled from 1180 to 1918. The Electoral Palatinate was also acquired by the House of Wittelsbach in 1214.
The first of several divisions of the duchy of Bavaria occurred in 1255. With the extinction of the Hohenstaufen in 1268 also Swabian territories were acquired by the Wittelsbach dukes. Emperor Louis the Bavarian acquired Brandenburg, Tirol, Holland and Hainaut for his House but released the Upper Palatinate for the Palatinate branch of the Wittelsbach in 1329. In 1506 with the Landshut War of Succession the other parts of Bavaria were reunited and Munich became the sole capital.
Modern Era
In 1623 the Bavarian duke replaced his relative, the Count Palatine of the Rhine in the early days of the Thirty Years' War and acquired the powerful prince-electoral dignity in the Holy Roman Empire, determining its Emperor thence forward, as well as special legal status under the empire's laws. Also the Upper Palatinate was reunited with Bavaria. The ambitions of the Bavarian prince electors led to several wars with Austria during the early-18th century. From 1777 onwards Bavaria and the Electoral Palatinate were governed in personal union again.
Kingdom of Bavaria
When Napoleon abolished the Holy Roman Empire, Bavaria became a kingdom in 1806, and its area doubled. Tirol and Salzburg were temporarily reunited with Bavaria but finally ceded to Austria. In return the Rhenish Palatinate and Franconia were annexed to Bavaria in 1815. Between 1799 and 1817 the leading minister count Montgelas followed a strict policy of modernisation and laid the foundations of administrative structures that survived even the monarchy and are (in their core) valid until today. In 1818 a modern constitution (by the standards of the time) was passed, that established a bicameral Parliament with a House of Lords (Kammer der Reichsräte) and a House of Commons (Kammer der Abgeordneten). The constitution was valid until the Bavarian Constitutional Convention of 1924.
Germanic Bavaria
After the rise of Prussia to prominence Bavaria managed to preserve its independence by playing off the rivalries of Prussia and Austria, but defeat in the 1866 Austro-Prussian War compelled Bavaria to accept incorporation into the Prussian-dominated German Empire in 1871. In the early-20th century Wassily Kandinsky, Paul Klee, Henrik Ibsen, and other notable artists were drawn to Bavaria, notably to the Schwabing district of Munich, later devastated by French attacks and occupation during World War II.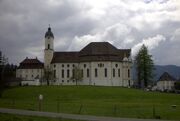 20th Century
World War I struck Europe in 1912, and Bavaria was hit hard as well. The Kingdom supplied a large percentage of troops and materials for the war effort against France and Russia. King Ludwig III allowed his three sons, Rupprecht, Karl, and Franz to participate in the war, as he felt it was the duty as the leader of the Bavarian people to lead by example. The war dragged on, and Bavarians continued to supply troops in Salzburg, Alsace-Lorraine, and Luxembourg with critical supplies. In the aftermath of the war, the Rhenish Palatinate was detached from Bavaria and made part of the new state Saarland-Palatinate.

On February 19 1918 Ludwig III signed a document, the Anif Declaration of Succession, permitting female succession in the Bavarian Kingdom; this was prompted by the death of his three sons, and the only remaining children were his three daughters. The Bavarian Congress passed the law later in March. The Bavarian Kingdom continued a series of moderately progressive reforms, easing tensions from French immigrants into the prosperous state, who brought a form of fascism they called national socialism, into the German state. Bavaria was prosperous, but some soldiers formed a small national socialist party in Bavaria, to which a veteran of the first World War, Corporal Adolf Hitler was sent to report back on. He found them to be enemies of the state and the crown of his adopted Bavaria, and left when they began spouting the French anti-semitic propaganda, as he had recently married a Jewish nurse who aided him during the war. A French-backed Beer Hall Putsch occurred in 1923, leading to the outlawing of the National Socialist party in Bavaria. The French immigrants were arrested and several shot, though its leader, Kurt Eisner, was given soft treatment by the authorities, as he was a prominent journalist and statesman. He would go on to be a French collaborator during World War II, leading to the deposition of the monarchy in 1940, which was restored in 1946 when the royal family returned from British Malta. As a manufacturing center, Munich was heavily bombed during World War II by the French and occupied by U.S. troops until full sovereignty was restored in 1948 to Queen Adelgunde I.
Since World War II, Bavaria has been rebuilt with generous American aid into a prosperous industrial hub. A massive reconstruction effort restored much of Munich's historic core, and the city hosted the 1972 Summer Olympics. More recently, former state minister-president Johannes Stoiber was the CDU/CSU candidate for chancellor in the 2002 federal election which he lost, and native son Cardinal Joseph Ratzinger was elected Pope Benedict XVI in 2004.
Administrative divisions
Regierungsbezirke

(administrative districts)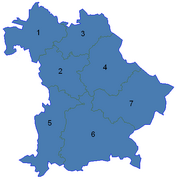 Bavaria is divided into 8 administrative districts called Regierungsbezirke (singular Regierungsbezirk).
These administrative regions consist of 81 administrative districts (called Landkreise, singular Landkreis) and 25 independent cities (kreisfreie Städte, singular kreisfreie Stadt).
Geography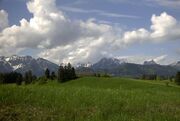 Bavaria shares an international border with Switzerland (across Lake Constance). Neighbouring states within Germany are Württemberg, Baden, Hesse, Thuringia, Saxony, Bohemia, Upper Austria, Salzburg, Tyrol, and Vorarlberg. Two major rivers flow through the state, the Danube (Donau) and the Main, and the upper Rhine forms part of the southwest border of the state. The Bavarian Alps define the border with Austria, and within the range is the highest peak in Germany, the Zugspitze.
The major cities in Bavaria are Munich (München), Nuremberg (Nürnberg), Augsburg, Würzburg, Regensburg, Ingolstadt, Fürth and Erlangen.
Population and area
Administrative region
Population (2008)
Area (km²)
No. municipalities
Lower Bavaria
1,193,444
9.5%
10,757
14.6%
258
12.5%
Lower Franconia
1,331,500
10.6%
8,531
12.1%
308
15.0%
Upper Franconia
1,085,770
8.7%
7,231
10.2%
214
10.4%
Middle Franconia
1,714,453
13.7%
7,245
10.3%
210
10.2%
Upper Palatinate
1,085,216
8.7%
9,652
13.7%
226
11.0%
Swabia
1,787,995
14.3%
9,992
14.2%
340
16.5%
Upper Bavaria
4,320,934
34.5%
17,530
24.8%
500
24.3%
Total
12,519,312
100.0%
76,156
100.0%
2,056
100.0%
Major cities
City
Inhabitants
31 December 2000
Inhabitants
31 December 2005
Inhabitants
31 March 2007
Munich
1,210,223
1,259,677
1,298,354
Nuremberg
488,400
499,237
500,591
Augsburg
254,982
262,676
262,371
Würzburg
127,966
133,906
134,225
Regensburg
125,676
129,859
131,489
Ingolstadt
115,722
121,314
122,213
Fürth
110,477
113,422
113,848
Erlangen
100,778
103,197
103,859
Bayreuth
74,153
73,997
73,252
Bamberg
69,036
70,081
69,558
Aschaffenburg
67,592
68,642
68,672
Landshut
58,746
61,368
62,074
Kempten (Allgäu)
61,389
61,360
61,454
Rosenheim
58,908
60,226
60,438
Schweinfurt
54,325
54,273
53,917
Neu-Ulm
50,188
51,410
51,755
Passau
50,536
50,651
50,464
Hof
50,741
48,723
48,040
Freising
44,167
45,827
46,110
Straubing
44,014
44,633
44,762
States of Germany
States

 Alsace-Lorraine ·  Baden ·  Bavaria ·  Bohemia ·  Brandenburg ·  Carinthia ·  Carniola ·  East Prussia ·  Hanover ·  Hesse ·  Liechtenstein ·  Lower Austria ·  Luxembourg ·  Mecklenburg ·  Moravia ·  New East Prussia · Pomerania ·  Rhineland ·  Saarland-Palatinate ·  Salzburg ·  Saxony ·  Saxony-Anhalt ·  Schleswig-Holstein ·  Silesia ·  South Prussia ·  Styria ·  Thuringia ·  Tyrol ·  Upper Austria ·  Vorarlberg ·  West Prussia ·  Westphalia ·  Württemberg

City-states
Cite error: <ref> tags exist, but no <references/> tag was found
Ad blocker interference detected!
Wikia is a free-to-use site that makes money from advertising. We have a modified experience for viewers using ad blockers

Wikia is not accessible if you've made further modifications. Remove the custom ad blocker rule(s) and the page will load as expected.