Ad blocker interference detected!
Wikia is a free-to-use site that makes money from advertising. We have a modified experience for viewers using ad blockers

Wikia is not accessible if you've made further modifications. Remove the custom ad blocker rule(s) and the page will load as expected.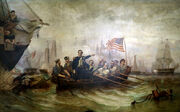 The
Battle of Lake Erie
was an military engagement between the British Royal Navy and the United States Navy on September 10, 1811. The commanders of the battles were
Oliver Hazard Perry
and
Robert Heriot Barclay
, and resulted in an American victory, and control of Lake Erie for the remainder of the brief but bloody war.