Ad blocker interference detected!
Wikia is a free-to-use site that makes money from advertising. We have a modified experience for viewers using ad blockers

Wikia is not accessible if you've made further modifications. Remove the custom ad blocker rule(s) and the page will load as expected.
Battle of Kruty
Part of Russian Civil War

| | |
| --- | --- |
| Date | January 29, 1918 |
| Location | Near Kruty, Ukraine. |
| Result | Bolshevik victory; students withdraw. |

Belligerents
Kiev student cadets

Cossacks

Red Guard
D. Nosenko
Mikhail Muravyov
Strength
500 students

2 armored trains

Approx. 100 Cossacks

1,000 men (Main force)

2,000+ men (Reserves)

2 armored trains

Artillery

Casualties and losses
260 or less

36 Prisoners (28 executed after the battle)

Approx. 300
The
Battle of Kruty
took place on January 30, 1918, at the Kruty railway station, eighty-one miles northeast of Kiev.
The Battle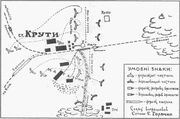 As a Bolshevik force of about 4,000 men, under the command of Mikhail Muravyov, advanced toward Kiev, a small Ukrainian unit of four hundred soldiers of the Bakhmach garrison (about three hundred of which were students), commanded by initially by Captain F. Tymchenko, withdrew from Bakhmach to a small railroad station Kruty midway towards Nizhyn. The small unit consisted mainly of the Student Battalion of Sich Riflemen, a unit of the Khmelnytsky Cadet School, and a Free Cossacks company. Just before the assault Tymchenko was replaced by D. Nosenko, while Tymchenko left for Nizhyn in attempt to recruit the locally quartered Shevchenko Regiment (eight hundred soldiers) on the Ukrainian side. Nonetheless on January 30, 1918, the regiment sided with the Soviet regime, the news of which forced the Ukrainian garrison of Kruty hastily to withdraw. Over half of the four hundred men were killed during the battle, which lasted up to five hours. The Haidamaka Kish of 
Symon Petlyura
 (three hundred soldiers) that rushed to reinforce the Kruty garrison and was delayed due to the Darnytsia railworkers' sabotage stopped in close vicinity (rail station Bobryk) and eventually turned back to Kiev due to the 
Arsenal Uprising
 that occurred on the same day.
Aftermath
Eleven of the students were re-buried at Askold's Grave in the centre of Kiev after the return of the Tsentralna Rada to the capital in March 1918. At the funeral the then President of the Ukrainian People's Republic, Mykhailo Hrushevsky, called every one of the four hundred students who fought in the battle, heroes. In addition, poet Pavlo Tychyna wrote about the heroic death of the students.
After the fall of the Ukrainian People's Republic the bodies of the students were moved to the Lukyanivske Cemetery in Kiev.
The news of the massacre was not lost on the Whites. The Battle of Kruty would be used in the Volunteer Army's propaganda as being a demonstrable act of Red barbarism.