Batman is a fictional character created by the artist Bob Kane and writer Bill Finger. A comic book superhero, Batman first appeared in Detective Comics #27 (May 1939), and since then has appeared primarily in publications by American Comics. Originally referred to as "the Bat-Man" and still referred to at times as "the Batman", he is additionally known as the "Caped Crusader", the "Dark Knight",and the "World's Greatest Detective," among other titles.
Pre-Doomsday
In the original version of the story and the vast majority of retellings, Batman's secret identity is Bruce Wayne, an American millionaire (later billionaire) playboy, industrialist, and philanthropist. Having witnessed the murder of his parents as a child, he swore revenge on crime, an oath tempered with the greater ideal of justice. Wayne trains himself both physically and intellectually and dons a bat-themed costume in order to fight crime. Batman operates in the fictional American Gotham City, assisted by various supporting characters including his crime-fighting partner, Robin, his butler Alfred Pennyworth, the police commissioner Jim Gordon, and occasionally the heroine Batgirl. Unlike most superheroes, he does not possess any superpowers; he makes use of intellect, detective skills, science and technology, wealth, physical prowess, martial arts skills, an indomitable will, fear, and intimidation in his continuous war on crime.
Batman became a very popular character soon after his introduction and gained his own comic book title, Batman, in 1940. As the decades wore on, differing interpretations of the character emerged. The late 1960s Batman television series used a camp aesthetic which continued to be associated with the character for years after the show ended. Various creators worked to return the character to his dark roots, culminating in the 1986 miniseries Batman: The Dark Knight Returns.
Doomsday
When the bombs fell, publication of Batman obviously stopped for years. This hiatus was ended in 1994, when American Comics hired writer Tim Burton to write comics for the series. Burton, who had been a little-known writer for movies, had been fond of the Batman comics before Doomsday. He gladly took up the responsibilities of writing Batman again.
Post-Doomsday
Batman
Doomsday had been practically ignored by the comic, much like in other titles. Batman continued his classic fight against the Joker. The hiatus was explained by the creation of a new villain, Bane, who broke Batman's spine. While he was recovering, Robin took the role as Batman until 1995. The series had a hiatus in 2004, when fans demanded that Doomsday is introduced. Rather than introducing it in the Batman comics, American Comics decided to spawn two more Batman series.
In the Batman series, he other DC heroes pitched in to save the world from Doomsday. While some cities were hit (Coast City, leading Hal Gordon to become a Black Lantern), most cities were saved. Batman continued his crusade against crime, sometimes teaming up with heroes in crossover comics and even villains who had a change of heart.
Batman: Dark Knight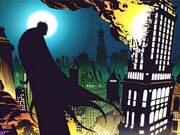 In
Gotham Knights,
Batman was able to divert the nuclear bomb headed for Gotham, though Doomsday still happened. Riots tore the city apart and Batman was forced to be a bit more violent in his methods. This is considered an 'evil Batman' scenario, though he still fights for good. This particularly dark series saw the cameos of Superman and Lex Luthor, who had moved from Metropolis.
Gotham Knights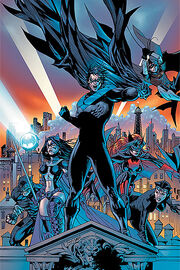 In
Gotham Knights,
Batman was able to divert the nuclear bomb headed for Gotham, though Doomsday still happened. Metropolis had been destroyed, along with several other areas. For years, riots tore the city apart. Not even Batman could stop them. In 2005, the Superman/Lex Luthor battle tore the city apart. Eventually, 12 men, women, and teenagers, came together to help Batman. They saved the city from near destruction.
This comic, though first about Batman, eventually began to focus on the Gotham Knights. This is considered a replacement for the Titans comics. The Gotham Knights are Nightwing, Robin, Catwoman, Batgirl, The Knight, Black Canary, Crimson, Jack Ryder, The Green Arrow, Chloe Sullivan, Ranger, and Azrael.
Ad blocker interference detected!
Wikia is a free-to-use site that makes money from advertising. We have a modified experience for viewers using ad blockers

Wikia is not accessible if you've made further modifications. Remove the custom ad blocker rule(s) and the page will load as expected.