Barry Goldwater
38th President of the United States
In office:

January 1, 1969 - January 1, 1977

Preceded by:
Lyndon B. Johnson
Succeded by:
Ronald Reagan
Governor of Arizona
In office:

1953 - 1961

Preceded by:
Unknown
Succeeded by:
Unknown
US Senator from Arizona

In office:

1961 - 1969

1979 - 1991

Preceded by:
Unknown
Succeded by:
Unknown
Biography
Born:

January 2 1909, Phoenix, Arizona Territory

Died:
May 29 1998, Caldo, Arizona
Birth name:
Barry Morris Goldwater
Nationality:
American
Political party:
Republican
Spouse:
Rose Aubrey
Children:
Barry, Rose
Alma mater:
University of Arizona
Occupation:
Businessman, Politician, Activist
Religion:
Non-denominational Christian
Early Life
Barry Goldwater was born in 1909 to Baron and Hattie Goldwater. His grandfather had founded Goldwater's department store in 1878. Goldwater had a good middle class upbringing, receiving a good education and in 1928 he entered the University of Arizona to study business but in 1930 following his father's death he took over the family business. Goldwater's was not hit hard by the depression at first, but following the election of FDR business decreased. Barry refused to join the NRA and Goldwaters finally went bust in 1935. Goldwater was saved from bankruptcy when in 1936 he met Rose Aubrey, daughter of Martin Aubrey, one of the wealthiest businessmen in the mid-west. Rose and Barry got married in November that year and had Barry Jr (1938), and Rose (1940).
Early Career
In 1940 though Goldwater was still a washed up businessman who was reliant on his father-in-law's money to keep the family afloat. Goldwater decided to become active in politics, and became a firm supporter of Robert Taft in his bid for the Republican nomination that year. When Taft lost to Roosevelt he supported him in his race against the Democrats. Goldwater tried to run for the governorship of Arizona but couldn't get enough support.
In February 1941 Goldwater joined the air force reserves, and when nine months later the US went to war he was given the rank of Lieutenant in the air force supply corps. He spent most of the war flying Dakotas full of supplies. He became a captain in 1942 and a major in 1944. Goldwater was asked to stay on when the majority of the air force was demobilized in mid -947 and was rewarded with the rank of full colonel. Goldwater finally left the Air Force in 1950.
Early Political Career
Upon leaving the air force Goldwater became a member of the Arizona State Republican party, and in 1952 he was nominated as the Republican candidate in the gubernatorial election. He won, largely thanks to the Democrat candidate becoming embroiled in a financial scandal.
Goldwater's term as governor was relatively uneventful. He represented Arizona at President Taft's funeral and supported the candidacy of Eisenhower in the 1956 Republican nomination. Goldwater was reelected in 1956 but declined to serve a third term.
Senate Career
When his term in office expired he ran for the US Senate seat in Arizona and won by a large majority. Upon reaching Washington Goldwater found the conservative wing of the GOP utterly lacking in political and moral leadership. Goldwater soon made a name for himself as a leading conservative senator and earned the nickname "Mr. Conservative".
He criticised President Kennedy as being "All Style with no Substance" and Brown as being "An empty man". His support for the Burma war made him very popular in the South and he called for cross party support for the war.
By late 1963 he seemed to be the front runner for the Republican nomination for president. At first Goldwater did not comment on the upcoming race, with many political pundits predicting a long battle between him and New York Governor Nelson Rockefeller. Rockefeller, a billionaire heir to the Rockefeller estate, although not as popular as Goldwater among rank and file Republicans, was favored by the party leaders and moderates. Goldwater could see that a race against the popular Kennedy would be close and on November 23rd 1963 announced he would not seek the Republican nomination. However he declined to endorse Rockefeller.
The Republican primaries would favor Rockefeller from the start, although he was challenged by former vice president and 1960 nominee Richard Nixon and former Senator Henry Cabot Lodge. The 1964 primary campaign saw the Republican Moderate and Liberal factions almost self-destructing themselves. Rockefeller chose Lodge as his running mate. Just two days before the election rumours began to spread about Rockefeller's tax affairs and allegations of tax avoidance. Rockefeller didn't have enough time to defend his case and on November 3rd he was defeated in a vast landslide, carrying only New York and New York City, and gaining only 36% of the vote, the lowest Republican share of the vote since 1856.
With the party shattered Goldwater quickly came into the scene and was seen as the most credible Republican left. This soon saw the conservative wing of the party take control. In 1965 Goldwater addressed the first Young Republican Congress, stating that "We've seen our party wrecked over the last 18 months, it is now up to us to rebuild it. I'm therefore calling all Republicans, all good Americans, to rally behind the flag". The speech greatly increased Republican morale, and the
New York Times
began running opinion polls asking whether readers would prefer Goldwater or Kennedy as president. The first poll, published on July 10th 1965, put Kennedy at 53% and Goldwater at 45%.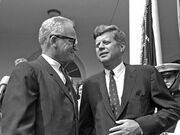 Goldwater's senate career reflected his conservatism, voting against Kennedy's health insurance act, voting for the military draft act, against withdrawing from the Panama Canal (which he was able to prevent from happening) and he put forward the idea for a Robert Taft memorial.
But on November 22nd 1966 Kennedy was assassinated, Goldwater seconded the tributes at his funeral, declaring his admiration for the man and saying "he will rank among the greatest [Presidents]". In March 1967, after national sympathy had died down, Goldwater began his race for the presidency. Holding rallies in southern states and meetings with potential backers, he officially announced his candidacy on July 3rd 1967.
1968 Presidential Election
Goldwater's only opposition for the Republican nomination was from Richard Nixon, however Nixon was unpopular with many Republicans and withdrew in April. Goldwater became the presumptive nominee and launched a strong campaign against Johnson. In July 1968 Johnson withdrew from the contest, citing poor health, nominating vice president Hubert Humphrey in his place. Humphrey was locked into a close battle with conservative southern Democrat George Wallace. It was clear the two men despised each other, Humphrey's liberalism and pro civil rights stance made him unpopular in the south and among conservatives. Many Democrats hoped for a compromise on the scale of 1900, with a moderate like Edmund Muskie as president, Wallace as Vice President and Humphrey as Secretary of State, but it seemed a forlorn hope from the beginning.
As the election came to its final straight the race was focused mainly on who would be the Democratic candidate. As it came to the convention Humphrey was able to pull through and just secured the nomination, he made South Dakota Senator George McGovern his running mate.
Goldwater selected the virtually unknown Maryland governor, Spiro T. Agnew as his running mate, after advisors rejected his first choice Texan John Connelly to balance the ticket (he was a southerner).
Goldwater declined to debate Humphrey and a vice presidential debate was also declined. Meanwhile George Wallace refused to endorse Humphrey, and although he didn't officially endorse Goldwater he did say that "I'm not sayin' I want him to win but I think he will".
On November 5th Goldwater did win, not by a landslide but by a strong majority. He took the south from Humphrey, and the midwest, the conservative north and the west coast. He took 52% of the vote, compared to 44% for the Democrats (the liberal party took 4% of the vote but failed to gain a majority in a single county).
First Term 1969 - 1973
Goldwater's first term was defined by foreign policy. His first decision as president was to halt the American withdrawal process from Burma. In March 1969 he announced that the American troop presence would increase from 600,000 to 750,000 but that American troops would begin to be replaced by Siamese and Burmese soldiers by 1974. He also authorised bombing campaigns against civilian targets.
In August 1969 an American bombing raid on Lashio destroyed the Soviet Embassy and killed 30 soviet citizens. Goldwater refused to acknowledge responsibility, blaming the soviets for keeping civilians in the country. By September 1969 American troop numbers reached their peak at nearly one million soldiers.
In June 1970 Goldwater announced that US troops would begin to withdraw (although this didn't really begin until early 1971) and that the draft would end during or before 1975.
He also significantly reduced the size of government, ending the health insurance process began by Kennedy. In June 1970 he issued the Goldwater Declaration, stating that America would not withdraw from any of its national territories and foreign overseas bases for 50 years (this Declaration was extended in 2010 by Sarah Palin until 2060).
By 1972 troop numbers halved and Goldwater announced his intention to seek a second term.
1972 Presidential Election
Goldwater was easily renominated, citing his troop withdraw process and Conservative domestic policy as successes. The Democrat party was still divided and was vying with the Liberal party to pick up the liberal vote. George McGovern, the Democrat nominee, and Eugene McCarthy, the Liberal nominee, both campaigned on a peace platform (McCarthy wanted peace immediately, McGovern wanted complete withdrawal by 1974).
Goldwater won reelection, maintaining all the states he won in '68 and gaining Virginia and Illinois, and gaining 54% of the vote (the Democrat party gained 35% and McCarthy won 11%).
Second Term 1973 - 1977
Goldwater's second term is often overshadowed by the bicentennial celebrations.
Post Presidency
Ad blocker interference detected!
Wikia is a free-to-use site that makes money from advertising. We have a modified experience for viewers using ad blockers

Wikia is not accessible if you've made further modifications. Remove the custom ad blocker rule(s) and the page will load as expected.