Barack Obama
Timeline: Space Race Didn't End


Portrait of Barack Obama

Secretary-General
January 3,2005 – current

Predecessor
Robert Zubrin

Assemblyman District 1 Storms
January 3,2003 – January 3, 2005

Space Command (Captain)
1983 – 2003

Born
August 4, 1961
Honolulu, Hawaii, USA, Earth
Spouse
Michelle Robinson (1995-present)
Political Party
Tranquility Socialist
Profession
Deep space Pilot/ Explorer
Barack Hussein Obama II is the 4th and current Secretary-General of the United Communities on the Moon. He is the youngest person and first African-American to hold the office.
Obama was born on Earth in Honolulu, Hawaii. He is a graduate of the United States Astronaut Academy, class of 1983. This class was the first to study there for the full four years and he was the first Valedictorian. As a cadet in the first class he, along with the other new cadets, found that they were creating new traditions as they went. Though there were earlier graduating classes, those classes were transfers from other schools. This put Obama in a position to demonstrate his natural leadership abilities and organizing skills.

He was very adept at space travel and life off Earth and after several trips to the Moon bases, he was selected to the Deep Space Program and after rigorous training was selected for a mission to Mars in 1986. Obama traveled to Mars three times including the command of the third of his missions. He would also lead the first crew to Jupiter in 1993. He would reach the rank of Captain (the first person straight out of the Academy to do so) shortly before leaving Space Command to run for office in the City of Storms in the United Communities.
While in office as an Assemblyman, he worked closely with others to get the Open Crater program passed to speed up immigration to the Moon. He also introduced legislation to make settling on the dark-side easier and helped get funding for the United Communities from the federal government for construction of sub-lunar "Open Space" caverns.
Early Years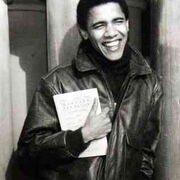 Obama was born on August 4, 1961, at Kapiʻolani Maternity & Gynecological Hospital (now Kapiʻolani Medical Center for Women and Children) in Honolulu, Hawaii. His mother, Ann Dunham, was born in Wichita, Kansas, and was of mostly English ancestry. His father, Barack Obama, Sr., was from Kenya. Obama's parents met in 1960 in a Russian class at the University of Hawaii at Mānoa, where his father was a foreign student on scholarship. The couple married in Wailuku on Maui on February 2, 1961 and separated when Obama's mother moved with her newborn son to Seattle, Washington in late August 1961 to attend the University of Washington for one year, while Obama Sr. completed his undergraduate economics degree in Hawaii in June 1962 then left to attend graduate school at Harvard University on a scholarship. His parents divorced in March 1964. Obama Sr. returned to Kenya in 1964 where he remarried; he visited Barack in Hawaii only once, in 1971. He died in an automobile accident in 1982.
Obama would live in Indonesia and attend school there until returning to Hawaii to live with his maternal grandparents. In 1975 the young Obama was inspired by the then President Brooke, the first black president, to enter the sciences. Obama added advanced math classes and took extra science classes.
In 1979 he traveled to Houston, Texas after being accepted into the newly formed Astronaut Academy. During his time there he quickly demonstrated his leadership abilities and over the four years there would become Cadet Full Commander.
While stationed in orbit in June 1989, Obama met Michelle Robinson when she was employed as a summer associate at the Orbitat Habitat. Assigned for three months as Obama's liaison, Robinson joined him at group social functions, but declined his initial requests to date. They began dating later that summer, became engaged in 1991 before he traveled to Jupiter, and were married on October 3, 1994. The couple's first daughter, Malia Ann, was born on July 4, 1998, followed by a second daughter, Natasha ("Sasha"), on June 10, 2001. The Obama daughters attended the Christa McAuliffe Memorial Public School. When they moved to Tranquility in January, the girls started at the private Sidwell Friends School. The Obamas have a goat named Bo - a gift from Former President Brooke.
Moon and Mars Missions
After graduating he was accepted into flight training and traveled to Cape Kennedy and then the Central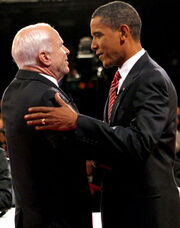 Transport Station in LEO for flight training. After completing his training he would travel on several transport missions to the moon and would meet John McCain. The two men would develop a close relationship, with McCain mentoring the young officer.
Obama would lead three missions to explore sites for future bases on the Moon. He would receive a commendation for quick action when the ship he was executive officer on nearly crashed in the Mare Fecunditatis. He was able to safely land the craft and properly ration air until help arrived. His quick
Jupiter Mission
Tranquility Socialist
Secretary-General