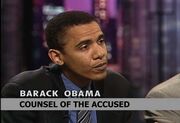 Barack Hussein Obama II
(born August 4, 1961) is a lawyer, who came to fame during the
Second Red Scare
of the 1990s. He acted as counsel for several people who were either blacklisted, arrested of harassed for their leftist political views.
Obama graduated at Harvard, and began practicing as a lawyer in Chicago in the 1980s. During this time, he held contacts with several leftist organizations, including the Red Rose Movement, which was considered as a left-wing intellectual group, opposing Reagan's politics. During the Second Red Scare, conservative accusers of Obama often biased him because of these associations in the past.
Obama claimed he is a die-hard Democrat, and never been a Communist, only the supporter of some "civil liberties and social democratic values". Although not a member of the party, he campaigned for a number of Democrat political candidates, including President John Kerry and California Governor Herbert Solow.
During his political activities, Obama was often biased by the right-wing press. He was often harassed for his alleged Muslim background, which he called a racist, Fascist attack against him. Televangelist Pat Robertson even claimed that he is, in reality, a Soviet agent. In 2004, Obama was busted and charged for the possession of marijuana, which he admitted, but both he and the liberal press had seen the charge as a political action against him. The event got huge media coverage, and finally Obama was sentenced to only pay a fee.
Another scandalous incident was when Obama said, reacting to his alleged Communist background, "If we continue this way, I'll really go to Moscow and tell Comrade Putin, they're more democratic than we are."
Since the mid-2000s, Obama is quieter and only comments and supports some more important political cases, such as the presidential campaign of Kerry. He lives in Chicago with his wife and two daughters.
Ad blocker interference detected!
Wikia is a free-to-use site that makes money from advertising. We have a modified experience for viewers using ad blockers

Wikia is not accessible if you've made further modifications. Remove the custom ad blocker rule(s) and the page will load as expected.