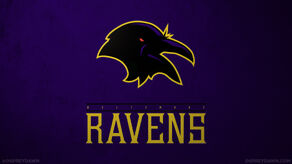 The Baltimore Ravens are a professional American football team based in Baltimore, Maryland, playing in the East Division of the National Football Conference (NFC) in the American Football League (AFL). The team has played its home games at M&T Bank Stadium in downtown Baltimore since 1998, and is headquartered at the Under Armour Performance Center in Owings Mills.
The Ravens were established in 1996, when then-owner of the Cleveland Browns, Art Modell, announced plans to sell the team and established a new franchise to Baltimore. As part of a settlement between the league and the city of Cleveland, Modell was allowed to take his players to Baltimore, where his new team would be legally recognized as an expansion team. The team's name was inspired by Edgar Allan Poe's poem The Raven—as Poe lived for a time in Baltimore, died and was buried there in 1849—and by the name of National Baseball League's Baltimore Orioles.
The Ravens have experienced great success in their brief history, making the playoffs nine times since 2000, with one Super Bowl victory (Super Bowl XXXV), AFC Championship title (2000), and four AFC North division titles (2003, 2006, 2011 and 2012). The Ravens organization has been led by general manager Ozzie Newsome since 2002, and has had three head coaches: Ted Marchibroda, Brian Billick, and John Harbaugh. With a record-breaking defensive unit in their 2000 season, the team established a reputation for relying on strong defensive play, led by players like middle linebacker Ray Lewis, who, until his retirement, was considered the "face of the franchise." The team is owned by Steve Bisciotti and valued at $1.157 billion, making the Ravens the 19th-most valuable sports franchise in the world.
Ad blocker interference detected!
Wikia is a free-to-use site that makes money from advertising. We have a modified experience for viewers using ad blockers

Wikia is not accessible if you've made further modifications. Remove the custom ad blocker rule(s) and the page will load as expected.