Baldwin of House Hainut
Emperor Baldwin of Latin Empire, Caesar of Constantinople, King of Greece, Germanicus of the Third Rome, Member of the Hellenistic Order




Emperor of the Latin Empire
9 May 1204 – 24 July 1226

Predecessor
None
Successor
Henry I of Constantinople
Born
6 July 1172
County of Flanders
Died
25 July 1243
Constantinople, Latin Empire
Spouse
Marie of Champagne - m. 1186
Religion
Roman Catholicism
Emperor Baldwin of House Hainut (1172-1204-1243), also known as Baldwin the Great was born on 6 July 1172 in the county of Flanders to Baldwin V, Count of Hainaut and Margaret I, suo jure Countess of Flanders.
Early life
Although there are few reports of his early life, it is known he grew up in Flanders under the education of a bishop and close friend of his father's, Armand du Earcluc. He would later become courtier and good friend of Philip Augustus. In c.1180, he was betrothed to Marie of Champagne, daughter of Henry I, Count of Champagne. They would not meet for the first time until 1184. They were officially wed in 1186, at Henry's traditional manor in Flanders. Several nobles were in attendance, along with Philip II Augustus. His marshal skill ensured attendance in the Third Crusade - however issues in the homeland forced Philip to reconsider the crusade, and eventually he had his army return to France. Baldwin did not return and instead fought as a commander under Richard I the Lionheart, which would earn him the animosity of Philip. He was involved in several major battles, which heard him a stark reputation of an ironclad leader. When the Third Crusade ended in 1192, Baldwin returned to France. Baldwin's standing with Richard continued to disintegrate as the conflict between Richard and Philip became more uneasy. Baldwin resigned from Philip's court to return to his own - however Philip saw this as the ultimate betrayal and called for Baldwin's arrest on 11 May 1193. However, the two friends reconciled later that year.
Becoming Count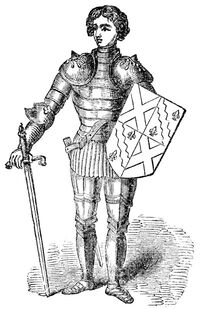 On 17 December 1195, Baldwin became Baldwin VI, Count of Hainaut and Baldwin IX, Count of Flanders on the death of his father. Although Philip II Augustus requested Baldwin to commandeer an army to besiege Castle Verneuil, Baldwin was apprehensive against fighting the English and Richard, whom he had bonded with during the Crusade. In a letter to Philip, he faked illness but agreed to send his knights. In 1196, however, tensions ensued when a letter was intercepted by Philip. It was from Richard himself to Baldwin - Richard was asking Baldwin to support him against Philip. Philip seriously considered imprisoning Baldwin, but his spymaster convinced him not to do so. Instead of this, Philip forced Baldwin to join his royal court and fight in his name. He would serve in the army as a top-ranking military officer until 1202.
4th Crusade
In October 1202, with the consent of Philip II Augustus, Baldwin heeded Pope Innocent III's call for the fourth crusade. He would participate in the siege of Zara and made a name for himself as Baldwin the Ironside after the siege of Constantinople in July 1203. His popularity meant that he was a candidate to be crowned potential Emperor. After the Serene Doge of Venice refused the crown of Constantinople, his ascension seemed to be ensured. He was popularly elected on 9 May 1204 as Emperor Baldwin I of Constantinople.
Emperor of Latium
Early reign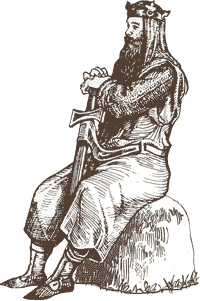 As emperor, Baldwin was not willing to allow the former Byzantine lands to stay independent. He immediately invaded Thessalonike (1204). Unwilling to see the Thessalonike fall to Latium, Basileus Theodoros aided the Doux of Thessalonike with supplies and soldiers. The Byzantine entry meant Baldwin's earlier tactics needed revision.
Seeing the failures of the 4th Crusade, Pope Innocent III was not willing to abandon Jerusalem. He declared a 5th Crusade to retake lost portions of the Kingdom of Jerusalem (1205). Despite his piety, Baldwin didn't want to partition his forces to help the Pope--so he kept out of the war. In 1206, the Byzantines sourly defeated the Latin army at the Battle of Seleukeia; Baldwin began contemplating a white truce. Luckily for Baldwin, the Byzantines were distracted by their Sunni neighbors. With that, Baldwin directed his forces towards Thessalonike (1206). His army captured the city of Voden and forced the Doux to surrender (1206); the war had concluded. The Doux agreed to become a vassal of Baldwin. In return, he was allowed to keep the county of Thessalonike.
In November 1206, Baldwin offered vassalization to the Doux of Epirus; he didn't want to fight if he didn't have to. To his surprise, Doux Michael refuted the offer. Baldwin summarily captured Epirus and stripped Michael of his lands (1207).
Although exhausted, Baldwin piously journeyed with his army to Jerusalem (1207). The 5th Crusade ended in Christian victory after the Sultan of Egypt finally conceded defeat (1214). On his return home, he revitalized his mission to reunite the entire Greek kingdom. He promptly invaded Athens and Achaia (1216). He soundly defeated the dukes and established his supremacy in the Aegean sea. He began efforts to invade the Byzantines, but his council urged him to sue for peace; he begrudgingly agreed.
Later reign
Baldwin held a grand tournament of knight jousting and festivities (1218). The following year, he made a pilgrimage to Jerusalem. The peaceful decade meant sound prosperity; Baldwin encouraged construction and reinforcement of earlier structures.
Despite this, Baldwin reinvigorated his earlier invasion plans; In 1227, he declared war on the Byzantines. Baldwin easily defeated the Byzantines and conquered the duchy of Nicaea (1228). After warring with Byzantium, Baldwin recused himself from war efforts. He became a patron of the arts and supported religious efforts.
Baldwin died of natural causes on 25 July 1243. He was succeeded by his only son, Henry van Vlaanderen.
Issue
By Solene

Isabella of Hainaut Legitimatized
Hodierne
Barthelemi
Julien
Gargamel
Gallery