Mexihca Yaoyotl Chicaktlij'
Royal Aztec Army
Founded
Circa 1330's
Country
Aztec Empire
Size
1,009, 008 personnel
Current Commander
Cuahuchinmenua Iahuaketl
Aniversary
June 30th (La noche triste event), November 16th (Armed forces Day)
Principal Engagments
Aztec-Spanish Wars, WWI, WWII
The Aztec Army (Anahuacahui Teyaotlani) is the land branch and largest of the Aztec Military Services; it also is known as the National Defence Army. It is famous for having been the first army to adopt and use an automatic rifle (The Mondragón rifle) in 1899, and the first to issue automatic weapons as standard issue weapons, in 1910. In September 2007 the Secretary of Defense reported that the Aztec Army consisted of 1,009, 008 men in 2007.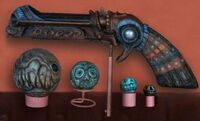 The army is the oldest army in the Americas; having a history of more than 600 years.
Ad blocker interference detected!
Wikia is a free-to-use site that makes money from advertising. We have a modified experience for viewers using ad blockers

Wikia is not accessible if you've made further modifications. Remove the custom ad blocker rule(s) and the page will load as expected.