Ayumi Hamasaki

Hamasaki performing in New York, August 2012

Biography
Born:

October 2 1978, Hifu, Yamanashi

Name:
Nationality:
Japanese
Political party:
None
Spouse:

None

Children:
None
Alma mater:
None
Occupation:
Singer, Songwriter, Model, Entrepreneur
Religion:
None
Ayumi Hamasaki is a Japanese singer, songwriter, fashion designer, model and entrepreneur. Entering the music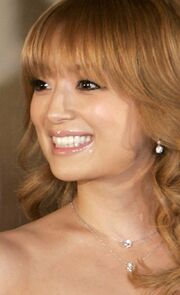 business in 1999, she soon became a teen sensation. From 2003 onwards she has consistently been #1 in Japan, expanding her music between pop and dance. Launching her own brand of clothing and cosmetics in 2007 she has become an icon for Japanese girls and her sex appeal makes her popular with Japanese boys. Her power and influence have led to her being referred to by Life magazine as "the uncrowned queen of Japan".
Early Life and Career
Hamasaki was born on October 2, 1978 in Hifu, a small town in the Yamanashi prefecture. She was brought up by her mother as her father abandoned them shortly before she was born. She attended the local school and studied dance, drama and art. She did not perform well, failing in art and achieving mediocre scores in the other subjects. However, she was not deterred.
Due to the lack of a father Hamasaki took on part time work as a child model. She appeared in several local magazines. This provided an income, although she wanted to be a pop star.
She hoped to realise her dream by studying music at the Hirobumi University (1996 - 1997) but after only seven months there she received her big break. After performing during a school concert she was contacted by an agency and in 1998 she released her first album. The album, called Regional Songs was a collection of Japanese traditional songs, sung in a new pop style.
The album became a relative success, but drew her to the attention of the media. A year later she released her first original album, My Love. My Love was much more successful, becoming #2 in Japan and launched her to nationwide fame. By December 1999 she had released another three albums and thanks to a vast media campaign was very famous.
Musical Success 2000 -
Her success became greater in 2000 when her hit single, anyone but my love, became #1 for five weeks. It was so successful she announced a tour, consisting of all her hits so far, and as a vehicle for introducing new songs rather than through CD's. Her tour began in November 2000 and lasted two months, visiting all major Japanese cities, including those on the Korean peninsula and Formosa.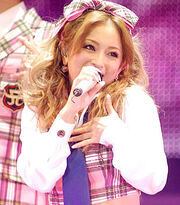 Modelling 2000 -
Hamasaki began modelling for companies following the success of her 2000 tour. She became the face of companies like Honda, Yamashita, Olympus and others.
In 2004 she appeared semi-nude in an edition of Kyoto Magazine. Shortly afterwards
Fashion and Business 2007 -
Public Image
Inside Japan Hamasaki is without a doubt the best publicised and most well known figure.
During her early success she was renowned for her "girl next door" approach, and her appeal as an ordinary girl who had achieved fame. However, in mid 2003 this changed. After extensive plastic surgery on her eyes and nose she effectively re-released herself, achieving vast fame. Her eye surgery was so popular that an estimated one in four Japanese teenagers also had the procedure done. Her dyed golden hair has contributed to her "new image".
Personal Life
She has been remarkably quiet about her personal life, with numerous rumours about her relationship status spreading in the news worldwide.
Wealth
She became a millionaire at 21 and a billionaire at 26. She is currently the richest woman in Japan and the 12th richest woman in the world.
Ad blocker interference detected!
Wikia is a free-to-use site that makes money from advertising. We have a modified experience for viewers using ad blockers

Wikia is not accessible if you've made further modifications. Remove the custom ad blocker rule(s) and the page will load as expected.